The company now plans to bet on health sciences, skin care and specialised products, says Arnab Dutta.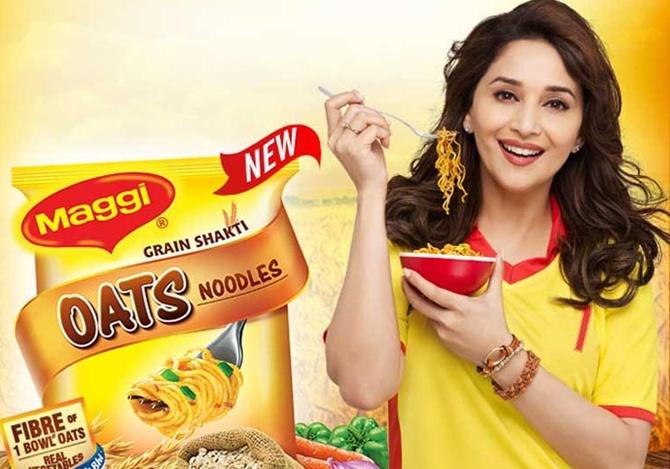 After dominating the shelves of Indian retail and medical stores for over 104 years with its packaged foods and infant formulations, Swiss FMCG major Nestle has decided to change its game plan.
The firm, which operates in 189 countries and owns over 2,000 brands, is working on a road map to shed the 'food and nutrition company' tag and emerge as a diversified entity by doubling the number of brands outside the food and nutrition segment in India.
Nestle India's latest plan is in line with its global strategy of strengthening the non-food portfolio.

Nestle India's new-found focus is heavily dependent on the success of two highly profitable business segments -- health sciences and infant nutrition.
The firm is also planning to strengthen its skin care and hair care portfolios catered through two firms -- Galderma and L'Oreal.
"Nestle is not just a food company and a new complexion of Nestle will be clearly visible in 5-10 years," says Suresh Narayan, CMD of the Indian arm, who took up the baton in the middle of the Maggi crisis in 2015.

The nutrition business is being strengthened with new products -- many of which are highly specialised and prescription-based.
During the past few months, the firm has launched two premium products -- Human Milk Fortifier and Nan Excella Pro.
While, the HMF is targeted towards pre-term babies, Excella Pro is a premium offering added to its flagship infant milk substitute brand Nan Pro.
Apart from helping the firm subsidise its other mass-market products in the category, these will help in increasing credibility of Nestle, Narayanan hopes.
Its nutrition division, which has a dedicated field force of some 800 officials, will be leveraged in coming days.
The firm has more products in the pipeline in the balanced nutrition and in-between meal categories, which mostly remained unexplored in India.
Some 57 per cent of its total sales in 2015 came from milk and nutrition business but its market share and volume sales are under pressure.
Narayanan says managing costs and leveraging the investments in recent years will be the key to its turnaround.
"These are our stronghold areas globally and we have great potential in India due to the kind of investments that we have made so far in R&D and technological innovations. In the past couple of years, we have invested Rs 5,000 crore," he said.
However, it is the health sciences business, which Nestle SA acquired in 2007 from Swiss pharma giant Novartis, that could hold the key. Globally, the firm owns over a dozen brands in this segment but in India it has only one brand, Peptamen.

"These are the kind of business where the surefootedness of Nestle as an expert company in science will be established here and that's why it is important for us. The trust and credibility that we gain will strengthen the base of the company," Narayanan says.
"We are evaluating options like launching products from our global portfolio to address Alzheimer's, cancer, kidney ailments, obesity, post-operative care, diabetes. We will be launching a few brands soon, including Resource. We are planning to produce these products locally. As the size of the health care sector is growing, hospitals are also looking to offer world-class services. This is the time when we should increase our focus in the area."