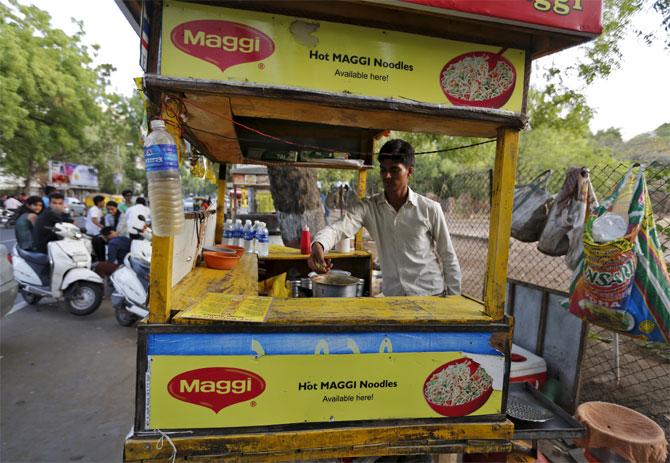 The company is negotiating with each state before relaunching Maggi.
Nestlé will not be able to start selling Maggi noodles across India immediately, although the instant noodle cleared final safety tests on Wednesday.

According to the Bombay High Court order on August 13, the company can commence sales after it clears tests in three designated laboratories.
But, bans on sales in at least 12 of 29 states and seven Union Territories have kept the company at bay.

Goa, Gujarat, Karnataka and West Bengal have no ban on sale of Maggi noodles but the position of the authorities in at least 20 states and UTs is not clear.
Nestlé is negotiating with each state before relaunching Maggi.

"We have received results from all three laboratories mandated by the Bombay High Court to test newly-manufactured Maggi noodle samples.
"All samples of Maggi noodles masala have been cleared, with lead much below permissible limits," Nestlé said in a statement on Wednesday.

Soon after the announcement Nestlé India's stock touched Rs 6,461.1 on the BSE Exchange to eventually settle at Rs 6,247.15 at the close of trade -- up 0.21 per cent.
While, the stock, over the past week has been range bound between Rs 6,200 to Rs 6,300 per unit, analysts said, it is expected to show improvement in the coming days.

Quashing a ban imposed by the Food Safety and Standards Authority of India, the Bombay High Court had ordered tests of Maggi noodle samples at laboratories in Jaipur, Mohali and Hyderabad.
On October 16, Nestlé received the go-ahead to resume manufacturing Maggi as samples cleared tests for lead. Samples of the newly-manufactured batches were cleared for human consumption on Wednesday.
"Now that the orders of the Bombay High Court have been complied with, we will make our best endeavour to commence the sale of Maggi this month," the company statement added.

"They need clearances for manufacturing units as well. Pantnagar in Uttarakhand - Nestlé's flagship plant for Maggi noodles -- has to start production to meet demand once Maggi is launched across India," an industry veteran said.
Nestlé could not begin manufacturing in two of its units due to state-level bans in Uattarakhand and Himachal Pradesh.

"We are manufacturing Maggi at Nanjangud (Karnataka), Moga (Punjab) and Bicholim (Goa) and for the other two locations at Tahliwal and Pantnagar, we are engaging with authorities in Himachal Pradesh and Uttarakhand, respectively," the company said.

NOT 2-MINUTE TOO SOON

April 7, 2015:
Test results from CFL, Kolkata arrives -- presence of MSG confirmed; lead found at 17.2 parts per million (ppm) against 2.5 ppm (permissible)
May 30, 2015:
UP FDA files case against Nestle India Ltd., few company officials and the retail chain Easy Day. A separate case was filed against Maggi's brand ambassadors Amitabh Bachchan, Madhuri Dixit and Preity Zinta
June 1-4, 2015:
States like Gujarat, Uttarakhand, Tamil Nadu, Delhi, UP and Jammu & Kashmir banned Maggi noodles for various periods – ranging from 15 days to two months
June 5, 2015:
Nestle withdraws Maggi noodles from India at 1 am
FSSAI issues countrywide 'order of recall' for all variants of Maggi noodles even as a press conference by Nestle's global CEO Paul Bulche was going on. It also stops production, distribution and export of the instant noodle
June 9- August 10, 2015:
Singapore, the UK, Canada, Australia, New Zealand, Vietnam, Hong Kong, the US declare Maggi noodles to be safe for consumption
July 25, 2015:
Nestle replaces India managing director Etienne Benet with Suresh Narayanan. Narayanan is the first Indian to head Nestle India since 1998, takes charge on August 1, 2015

August 13, 2015:
Bombay High Court strikes down countrywide ban on Maggi noodles as it prevented 'natural justice'. Orders retesting in three NABL-accredited labs; production and sales to stay till test results are out
Oct 16, 2015:
Three labs clear Maggi noodles; all 90 samples found to be safe
Nov 4, 2015:
Nestle gets legal go-ahead to sell Maggi noodles in India as newly-manufactured batches clear safety test