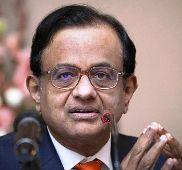 Union Finance Minister P. Chidambaram has emphasised the need to meet the financing requirements of the infrastructural deficit.

To meet the financing requirements of the infrastructural deficit, many more institutions are required to share this responsibility, Chidambaram said on Tuesday, while launching operations of India's first Infrastructure Debt Fund under the NBFC Structure by handing over the First IDF -- NBFC License to the Promoters of India Infra Debt Limited -- ICICI Bank, Bank of Baroda, Citibank and Life Insurance of Corporation.

"Infrastructure spending in the 12th Five Year Plan is projected at $1 trillion against about $500 billion in the 11th Five Year Plan.

The share of private investment in the total investment in infrastructure has increased significantly from 22 per cent in the Tenth Plan to 38 per cent in the Eleventh Plan and is projected at 47 per cent during the Twelfth Plan," he said.

Chidambaram asked the promoters of the India Infra Debt Limited to provide sound management to make these projects successful.

He said that that financing investments of this order with significant participation from the private sector will require adoption of innovative ways of financing.

He further said that the government has initiated several major steps in this direction including the set-up of the Cabinet Committee on Investments (with the Prime Minister as the Chairman to expedite decisions on approvals/clearances for implementation of projects, promotion of public private partnerships to attract private sector participation for creation of economic and social infrastructure assets and for delivery of quality public services.

He further said one major problem faced by banks while disbursing loans to infrastructure projects is the asset liability mismatch inherent with these projects.

"Therefore many such projects are denied financing by banks. IDFs through innovative means of credit enhancement is expected to provide long-term low-cost debt for infrastructure projects," he added.

"The cost and tariff of Infrastructure services are likely to go down as a result of low cost long term debt provided by IDFs.

Further, buy-out guarantee from Project Authority will enable IDF-NBFC to maintain zero NPAs.

The taking over of existing bank debts by IDFs will release an equivalent volume for fresh lending by banks to infrastructure projects," he said.

"The government has also allowed the issue of Tax Free Bonds amounting to Rs 54,500 crore (Rs 545 billion) for the FY 2012-13, doubled from Rs. 30,000 crore (Rs 300 billion) in FY 2011-12.

These bonds would mobilise much needed long-term funds for the infrastructure development," he added.
Image: P Chidambaram