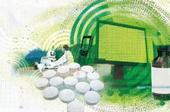 Prime Minister Manmohan Singh on Tuesday said India needs structural reforms in the healthcare sector to improve delivery of services at the grassroots level and help the underprivileged access the facilities.
"India has made substantial progress in health determinants over the past decades. The critical indicators of health have shown consistent improvement over the years. But our progress has been much less than what we would have liked to achieve and are capable of achieving," he said.
"It also does not compare well with what a number of other countries, particularly in South East Asia, have achieved," the Prime Minister said in his address at the 30th convocation ceremony of Post Graduate Institute of Medical Education and Research.
Singh said as in economics, in medicine too it is easy to get lost in high-level research and forget ground realities."A common perception among the public is that institutions running with public money end up as ivory towers".
It is widely felt that the poor and underprivileged sections of our population do not have access to healthcare system. The system needs structural reforms to improve the quality of delivery of services at the grassroots level. It has to be more sensitive to the needs of women and children," he said.
Singh said there is a need to recognise that a 'hospital-centered approach' to healthcare has proved to be 'excessively costly' even in the advanced countries.
"A more balanced approach would be to lay due emphasis on preventive health care".
Singh said that the debate on healthcare reforms in the United States was indicative of what he has mentioned.
Pointing to the money spent on health, he said, "It is also a fact that in the public sector today we are spending one per cent of GDP on health. It has been our goal to increase it to 2-3 per cent. Both the Central and the state government have to work hard to achieve this goal."
He said to accelerate the improvement in the health status of the population, the Centre has accorded a very high priority to the health sector in the last five years, with funds allocated for this having seen a quantum jump in the 11th Plan, increasing by three times over the previous plan.
The Prime Minister, however, also said a review of the National Rural Health Mission points out to the acute shortage of human resources at various levels, including in the number of specialists, doctors, nurses and paramedics.
"This is one of the biggest impediments to strengthening of the public health delivery system and scaling up access to healthcare. To address this deficiency, the government has taken a number of initiatives. More medical colleges and nursing schools are being established, particularly in the less developed states," he said.
He said the student-teacher ratio has been enhanced in speciality hospitals and super speciality hospitals from the current level of 1:1 to 2:1.
"This is expected to increase the number of post-graduate specialists by almost 5,000 from the existing level of 13,000 within a short period of time.
"A new scheme for strengthening and upgrading medical colleges of the state governments is also being launched so as to increase the number of post-graduate medical seats all over the country," he said.
Singh said that it would require sustained efforts to maintain the high standards and leadership status of PGIMER.
"We are living in an age where human knowledge is growing at an unprecedented pace and if our institutions have to keep up the pace we have to be on the frontiers of higher education, specifically medical science," he said.
While congratulating those who were awarded degrees and medals at the convocation, he reminded them that "our society expects from our professional men and women to go much beyond the pursuit of their professional careers".
"As you journey in life and progress in your professional careers, our people expect you to live up to the motto of this institute 'Aarth Seva Sarva Bhadr a Shodhashch' which means service to the poorest and research for the good of all."
He also told them to always keep the well-being of the common man in mind. That is "the talisman Mahatma Gandhi wanted to give to each poor person in our free country".
"You must find ways of returning to the society and your country a part of what they have given to you. Our country expects that you will never lose sight of the importance of a professional career with emphasis on ethical living. All this is not easy to remember and follow in the rough and tumble of everyday life, but you are all talented young men and women, capable, I am sure, of achieving far more than the ordinary.
"I sincerely believe that this ambition should guide your career," he said.
Singh said the mission of PGI will remain incomplete unless the interest of common man is addressed effectively.
"Institutions like PGI must link more effectively with the community and address its needs. Medical and para-medical personnel should imbibe a sense of commitment to welfare of the common man," he said.