After life insurance products, the sector's regulator is now turning its attention to unit-linked insurance products (ULIP) that guarantee the highest net asset value (NAV) over its term. Two life insurance companies that have filed for ULIPs guaranteeing such NAVs have been questioned by the Insurance Regulatory & Development Authority (IRDA).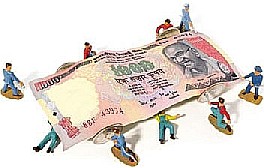 "The regulator has asked us why they should allow us to sell such a product,'' admitted a senior executive of a life insurance company. "It is not convinced about the idea of guaranteeing the highest NAV."

Unlike regular ULIPs that calculate payouts on the basis of NAV at the time of maturity, these policies guarantee the highest NAV over the first seven-year term.

NAV is the current market value of a fund's net assets divided by the number of outstanding shares.

Insurance companies have to maintain extra reserves to offer such guarantees. Most firms set aside 0.5 to 1 per cent of investments as reserves. This extra capital is maintained over and above the solvency requirement prescribed by the insurance regulator.

These new products are also facing problems because of an additional layer of scrutiny. Products now have to go through actuarial, life and finance departments. Earlier, only actuarial and life departments use to approve products.

"New products are facing trouble in getting clearance, since a new department has been added. If it is an investment-related product, then it goes to the finance department. The actuarial department use to go through the mechanism earlier," explained G N Agarwal, appointed actuary at Future Generali.

Before the new department was added, a few insurers - including SBI Life and HDFC Life - launched ULIPs guaranteeing the highest NAV. While SBI Life's product is called Smart Performer, HDFC's is branded as HDFC Standard Life Crest.

Life Insurance Corporation of India collected a record Rs 15,000 crore from Wealth Plus, its guaranteed NAV product. The plan offers payment of fund value at the end of the policy term, based on highest NAV over the first seven years of the policy or NAV applicable at the end of the term, whichever is higher, according to LIC's website.