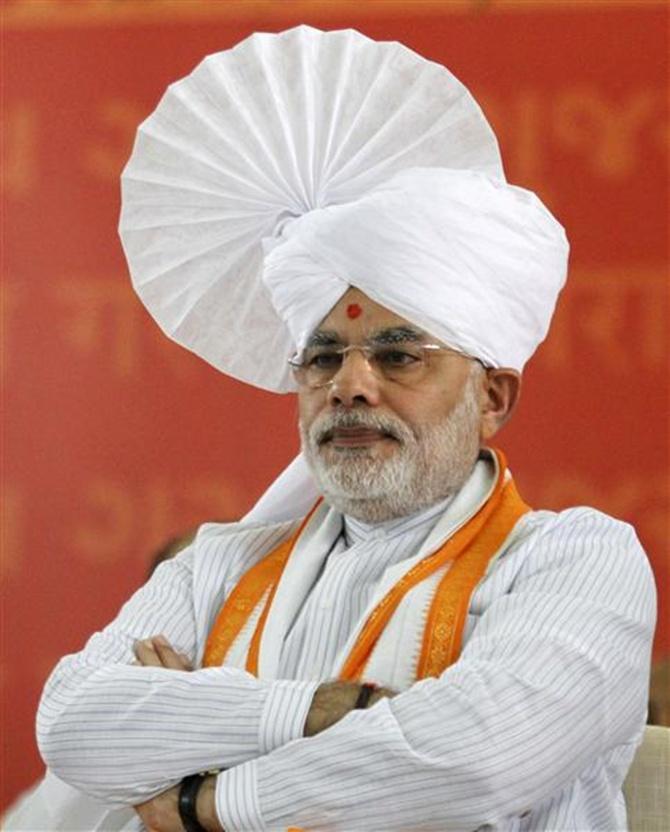 This will be the first time BJP's prime ministerial candidate holds a discussion with IT, telecom czars.
On Friday, Gujarat Chief Minister and Bharatiya Janata Party (BJP)'s prime ministerial candidate Narendra Modi will interact with top honchos from the telecom and information technology (IT) sectors at The Grand hotel in New Delhi.
This will be the first time Modi, an advocate of promoting information and communication technology in governance, holds a discussion with chief executives of the IT and telecom industry.
The organisers said Modi would address the meeting for about 20 minutes. The participants will include Google India's Rajan Anandan, Genpact's Pramod Bhasin, Cisco's Jeff White, Vodafone's Marten Pieters, HCL's Ajai Choudhary and Bharti Airtel's Akhil Gupta.
The heads of Cellular Operators Association of India, Indian Electronics and Semiconductor Association, Manufacturers' Association for Information Technology, and National Association of Software and Services Companies would also be present.
The central government will be represented by the secretary in the department of electronics and IT and the director-general of Software Technology Parks of India. The organisers said each participant would be asked to submit a White Paper on the sector concerned. Also, about 15 chief executives will be given two minutes each to voice their views.
They will also cite three challenges before the sector concerned and give three recommendations.
"The party will study the white paper submitted...We will go through them to look for relevant bits that can be incorporated in the BJP's vision document," said Abhishek Tankha, a member of the party's industry cell.
He added the BJP would organise more industry-Modi interactions. Other than Modi, no senior BJP leader has confirmed attendance so far. Till Monday evening, the organisers were pressing hard to get leader of Opposition in the Rajya
Sabha Arun Jaitley and party leader Ravi Shankar Prasad on board.