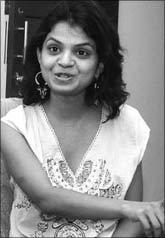 Infosys co-founder and chief mentor N R Narayana Murthy and Infosys Foundation chairperson Sudha Murthy's daughter, Akshata, is all set to tie nuptial knot with an Indian classmate of hers from Stanford Business School on August 29, family sources said.
The 29-year-old Akshata, a venture capitalist in the cleantech space based in California, will be getting married to Rishi Sumak, who is also based in the Untied States, sources told PTI refusing to divulge further details about Sumak.
"The marriage is going to a two-day affair. A simple marriage ceremony will be held here on August 29 followed by a reception at the Leela Palace, the next day," sources said.
They said around 1,000 guests are expected at the reception and added, "It will also be simple and low key and not lavish."
A senior associate at Siderian Ventures, whose aim is to build entrepreneurial cleantech-enabling businesses with global perspective, Akshata is currently employed as marketing director with Tendris, a Dutch cleantech incubator fund with presence in Amsterdam and San Francisco.
Like her brother Rohan -- who is a Microsoft fellow doing a doctoral programme in computer science at Harvard University, Akshata schooled in Bangalore. She received her undergraduate degree from Claremont McKenna in California and did her MBA from Standford.
Akshata is one of Infosys' largest individual shareholders a 1.4 per cent stake. Her net worth is currently around Rs 1,600 crore (Rs 16 billion).
Image: Akshata Murthy.