Call it the Nano effect. The demand for used cars in the country has fallen by as much as 25-30 per cent after Tata Motors' announcement of the launch date of the 'People's Car.' The car will debut on Monday.
According to automobile dealers here, there has been an average fall of 15-20 per cent in prices of used cars, mainly compact ones like Maruti 800, Maruti Alto and Hyundai Santro, among others, following the announcement.
Dealers in the unorganised market fear a further price dip of 10 per cent when delivery starts and the Nano is seen prominently on roads.
Arif Fazulbhoy, director, Fazulbhoy Motors, one of Mumbai's largest used-car dealers, said, "We started to feel the impact of the Nano since the announcement of the launch date. People are postponing purchases and there has been a lull in the market ever since."
The Nano, expected to sport an on-road price of Rs 1.25-1.3 lakh (Rs 125,000-130,000) for the no-frills, base version, will compete with the compact cars of Hyundai Motors, Maruti Suzuki, Tata Motors and General Motors. Its high-end version, complete with air-conditioning, central locking, power windows and power steering, will cost approximately Rs 1.7 lakh (Rs 170,000).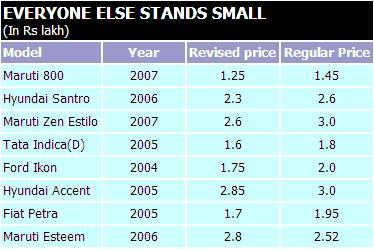 Nano has pulled down prices of several models. For instance, a 2006-make Hyundai Santro is currently being offered at Rs 230,000 as against its regular price of Rs 260,000. Similarly, Maruti Suzuki's Zen Estilo is Rs 40,000 cheaper at Rs 260,000 as against the usual price of Rs 300,000.
Due to steady fall in the prices of compact cars, prices of entry-level, mid-sized sedans like Ford Ikon, Maruti Esteem, Hyundai Accent, Tata Indigo and Fiat Petra have also dipped by at least 10 per cent in the used-car market.
Sellers are being forced to cut rates as the demand is expected to fall further. "The more the time a car spends with the seller, the more its resale value falls," said a dealer.
The impact on used-car prices, however, seems restricted only to the unorganised market. Prices in the relatively smaller organised market are still holding. India's used-car market is largely unorganised. The organised players account for just 20 per cent of the used-car market.
Shubhabrata Saha, chief executive, Mahindra First Choice Wheels, said, "The launch of Nano will largely impact the unorganised sector, where cars are sold without any warranty or proper service record. The organised sector has continued to grow despite the hype created around the car. We have healthy demand for well-kept cars that are bigger than Nano but come with a price tag similar to Nano and carry a warranty." Although the organised players offer warranty and benefits like service back-up, they charge Rs 30,000-60,000 more than the unorganised players on an average.