Mutual funds (MFs) invested a record Rs 1.73 trillion in equities in the financial year 2022-23 (FY23), providing strong support to the Indian markets at a time when foreign investors were redeeming their holdings.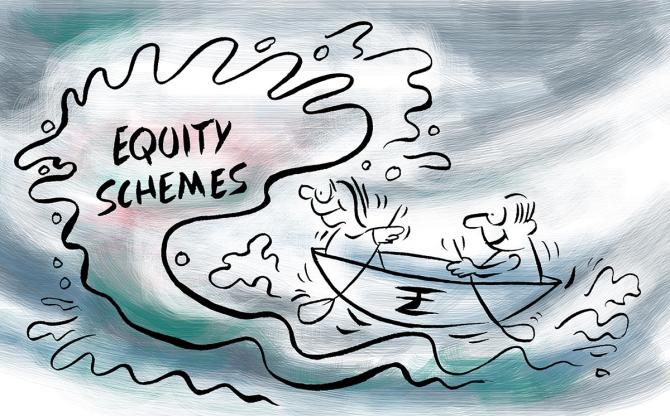 They exceeded the previous high of nearly Rs 1.72 trillion investment in equities in FY22.
The data from the Securities and Exchange Board of India (Sebi) shows MFs were net buyers in the equity market in eleven of the twelve months last financial year.
Foreign institutional investors (FIIs) redeemed a net Rs 35,000 crore in FY23. They were net sellers in the previous FY, too, when they pulled out over Rs 1.4 trillion.
"Investment by MFs helped the markets hold up in FY23, even as FIIs continued to pull out money, albeit a lower quantum than FY22.
"Since the MF money is mostly sourced from retail investors, there is less fear of sudden flight of funds.
"Hence, it provides greater stability to the market," said Ambareesh Baliga, an independent market analyst.
Overall, domestic institutional investors (DIIs), which include MFs, made a net investment of Rs 2.56 trillion in last financial year.
"Strong domestic flows insulated the market from a sharp correction due to the outflow of foreign investments.
"However, our markets are much more sensitive to foreign flows than the domestic investment trend, as evident from the subdued performance despite the strong flows," said G Chokkalingam, founder and chief investment officer at Equinomics Research.
The equity markets gave minor returns in FY23 as the benchmark Sensex and Nifty50 indices ended the year nearly flat.
While domestic flows remained strong, factors, such as the sustained rate hikes by global central banks, the Russia-Ukraine war, stubborn inflation, and the banking crisis in the developed world, kept a leash on stock performances.
Despite volatility and subdued investor sentiment in last financial year, retail investors continued with their systematic investment plans (SIPs), putting in a higher sum in almost every subsequent month.
In the first 11 months, gross SIP flows amounted to Rs 1.4 trillion -- 14 per cent higher than the SIP investments in FY22.
"There is a shift in trend. Investors no longer get swayed by short-term movements in the market, as many of them have made money from equities in the past four-five years.
"More and more investors are realising that equities are for the long term.
"This is why we are seeing a shift in investment patterns towards equities from products like bank FDs, gold, and real estate," said Rahul Jain, president and Head of Nuvama Wealth.
Money coming in through SIPs mostly go into equity schemes.
The data shows that only 1 of every 10 SIPs is in a debt scheme.