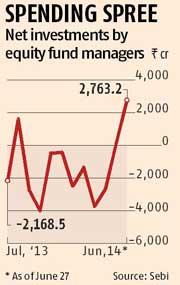 Equity fund managers are on a stock-buying spree.

Ahead of the Union Budget, in June, net investment in shares by mutual funds stood at Rs 2,763 crore (Rs 27.63 billion), the most since June 2008.

Though the sum was nowhere close to the big-ticket monthly purchases seen during the 2004-2008 bull run, it is significant, as it confirms the reversal of a selling spree that began in September 2013.

Last month, net buying by MFs stood at a marginal Rs 105 crore (Rs 1.05 billion).

Till May, most investments were made by large investors, primarily high net worth individuals. Sources said retail money, too, had started coming in.

"Investors are more hopeful than earlier and this is reflected in their choice of investment.

"The number of transactions has increased twofold, favouring equities.

"It's a turning point and the trend should continue," said Kalpen Parekh, chief executive of IDFC Mutual Fund.

During 2009-10, fund managers sold stocks worth a whopping Rs 75,000 crore (Rs 750 billion), as investors kept redeeming investments.

However, the tide appears to be turning for the industry.

"Gross sales are on the rise, which is a big positive," said Supreet Bhan, executive director and head (retail sales), JP Morgan Mutual Fund (India).

He added though there were redemptions, these weren't as high as earlier.

Since March this year, there has been a rise in gross sales of equity products.

Against average monthly sales of Rs 3,000 crore (Rs 30 billion), the March-May period saw overall sales of equity-oriented products worth Rs 22,500 crore (Rs 225 billion).

A major push in equity sales came in May, when the figure exceeded Rs 10,000 crore (Rs 100 billion), probably the highest for the sector.

"Enquiries from retail investors have substantially increased.

"Though these haven't yet translated into actual investments, the sentiment has improved a lot," said the national sales head of a large fund house.

A Balasubramanian, chief executive, Birla Sun Life AMC, said, "With the improved sentiment towards our country and the mutual fund sector, I am bullish on investor participation in MF equity schemes."

Most equity fund managers are deployed with cash levels as low as a percentage point of the equity assets under management.
Please click here for the Complete Coverage of Budget 2014 -15