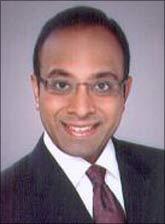 Another family-run conglomerate in Chennai has seen a handing on of the baton. Ashwin C Muthiah, 43, only son of veteran industrialist A C Muthiah, has become the new chairman of Manali Petrochemical Ltd (MPL), a group company of Southern Petrochemical Industries (Spic).
Last month had seen A Vellayan, scion of the Murugappa Group, take over as chairman. There was also the induction of Lakshmi Venu as director in the TVS Group's Sundaram Clayton Ltd; her father, Venu Srinivasan, is chairman and managing director.
Spic was founded by the late M A Chidambaram in 1955 and since 1975, the group has been led by his son A C Muthiah.
The company is one of South India's prominent industrial houses, with businesses spanning fertilisers, chemicals, petrochemicals and logistics.
Earlier, in 2007, A C Muthiah resigned as chairman of SICAL Logistics and appointed Ashwin the new chairman. SICAL Logistics was formed by carving out the logistics business of South India Corporation.
On Thursday, MPL's shareholders gave the okay to Ashwin's becoming the next chairman at the company's annual general meeting. Ashwin Muthiah is actually a Non-Resident Indian, based in Singapore. He did an MBA in finance from a US university.
Ashwin Muthiah said his appointment "is part of the succession and professional plan of the group". He declined to comment further.
MPL is a leader in production and marketing of propylene glycol and polyols in India. Its sales last year were Rs 394.8 crore (Rs 3.948 billion), as compared to Rs 369.6 crore (Rs 3.696 billion) the year before.
Besides its production of propylene oxide, propylene glycol and polyol, the company has also set up a biomass co-generation captive power plant. Investment in this project is about Rs 50 crore (Rs 500 million), said G Ramachandran, managing director, MPL.
He added that the company is introducing newer systems to meet the requirements of the automobile industry. The company has tied up with a German company to supply raw material to manufacture steering wheels. Phase-I production would be 1,000 tonnes for both domestic and export markets.
Muthiah said polyurethane is the "limelight industry" and it continues to grow at around 12 per cent annually. More automobile companies have started production in India and this is expected to increase the demand.
The white goods sector is also growing steadily, in spite of recessionary pressures. Hence, the outlook is encouraging. The company will grow along with market growth, said Muthiah.