Union Minister of Corporate Affairs Murli Deora has offered to resign ahead of talk of a possible Cabinet reshuffle.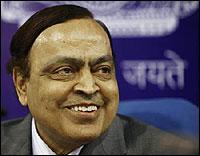 Deora, 74, said he has submitted his resignation and sought to dismiss reports that he has asked for his son Milind Deora's inclusion in the council of ministers.

"Yes, I have offered to Congress President Sonia Gandhi to step down from the Union Council of Ministers... Have not asked for anything more... It is not
a sudden decision," Deora told PTI.
Deora, however, clarified that he hasn't resigned yet and had offered to relinquish charge of the Corporate Affairs Ministry "orally" to Gandhi a few weeks back.
It wasn't known what Gandhi's reaction was.
"I have the satisfaction of completing a full five-year stint as Union minister and so now I thought it will be appropriate to step down," he said without elaborating.
There is talk of a Cabinet reshuffle after President Pratibha Patil's return from her sojourn in Hyderabad on July 8.