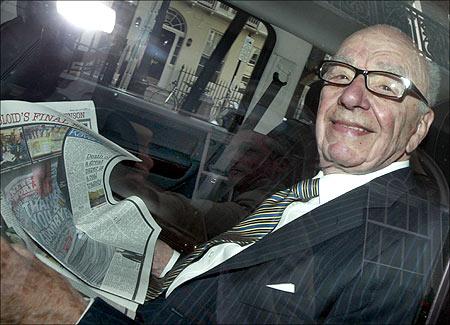 The Rupert Murdoch-controlled STAR Group has decided to part ways and end its brand association with the Ananda Bazaar Patrika Group in their joint venture (JV), after months of discontent over editorial and strategic issues.
However, STAR India will continue to hold its stake in the JV.

The two have been operating news television venture, Media Content & Communications Services India Pvt Ltd, over the past eight years.
"MCCS has sustained its affiliation with STAR for eight years and both have benefited from the association.
"STAR and ABP have decided to discontinue the brand agreement, where STAR has lent the brand to MCCS.
"STAR continues to be a shareholder in MCCS," said MCCS CEO Ashok Venkatramani.

MCCS, formed in March 2003, is a 74:26 joint venture between ABP TV and STAR News Broadcasting.

STAR News, owned by the JV, will  now be called ABP News.
The Bengali channel STAR Ananda will be called ABP Ananda and Marathi news channel STAR Majha will be ABP Majha.

"Given the current regulatory environment and structural issues ailing the Indian cable and satellite television market and the news genre in particular, STAR took this extremely difficult decision to withdraw its brand from the genre," STAR India said.

The discontinuation will take effect in phases from a period of two to four months, with both partners working together to ensure a smooth transition.

Sources close to STAR said ABP would have the right of first refusal; so, as and when STAR decides to exit, ABP will have the first right to purchase its stake.

"Editorial control in the MCCS JV had always been a stress point, as STAR had no control over the running of the organisation due to the FDI (foreign direct investment) limit. It made no sense for them to continue with the JV," said an industry source.

Going ahead, ABP says it wants to 'promote and establish' its own brands in the news broadcast space through its subsidiary company, MCCS. STAR wishes to focus on its core business of general entertainment.

"From a foreign player point of view, it could be a business decision, as FDI in news is unlikely to increase from the existing 26 per cent.
"So, it doesn't make much sense to have it in their portfolio, as there is no majority control. For ABP, being a well established news brand, this would allow them to carry their brand in the broadcasting space," said Jehil Thakkar, head of media and entertainment practice at KPMG.

Although differences had been there for a while, yet in the past year several other operational and management issues aggravated the strain. For example, ABP launched a general entertainment channel, Sananda TV, to take on the popular STAR Jalsa in the Bangla general entertainment space. That, apparently, did not go down well with STAR.

On the other hand, ABP was not happy when STAR India entered into an ad sales alliance with rival NDTV for its three news channels to market NDTV channels. Although the alliance is restricted to sales, both MCCS and NDTV compete in the Hindi news channel space.

Ever since the NDTV-STAR deal was announced, there had been speculation it was a case of old partners joining hands again to forge a strategic association that may even lead to an equity tie-up.

STAR officials feel the whole economics of the TV news business in India is not working, with restrictions on FDI. "If you are not in the driver's seat or have no significant say in the running of operations, it doesn't make strategic sense," said an official.
Image: Rupert Murdoch