After months of speculation, Rupert Murdoch's 16-year-old equal joint venture (JV) with sports broadcaster ESPN has broken up. STAR will buy out ESPN's 50 per cent equity stake in the JV, ESPN-STAR Sports (ESS).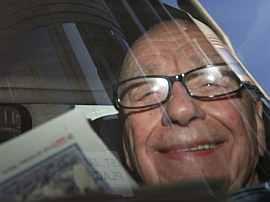 The deal will allow Murdoch's News Corp to fully own and operate ESS businesses in Asia and own lucrative properties like the ICC World Cup, the English Premier League and Formula 1. In April, STAR India had decided to bid on its own than through the JV and won the Board of Control for Cricket in India's (BCCI) media rights to matches played in India for a staggering Rs 3,851 crore (Rs 38.51 billion). Experts said that was a clear indication the two were parting ways.

"News Corporation's acquisition of the interest of ESS that we did not already own continues the programme of simplifying our operating model, consolidating our affiliate ownership structures, and furthers our commitment to delivering incredible sports programming to consumers across the globe, and particularly enhancing our position in sports programming in emerging markets," said James Murdoch, deputy chief operating officer, chairman & CEO International, News Corp.

The move will provide ESPN more flexibility in future, with the support of Walt Disney's overall strategy in Asia. Internationally, Disney controls a majority interest in ESPN Inc. However, analysts say the move will simply mean ESPN would have to start from scratch if it wants to enter the Indian sports channel business on its own. Most of the marquee sporting properties are either with ESS or other Indian channels.

"After 16 years of jointly managing ESS, we have decided to independently pursue future opportunities in Asia," said John Skipper, president of ESPN and co-chairman, Disney Media Networks.

ESPN will continue to own ESPN-branded digital businesses like ESPN Cricinfo, ESPNFC and ESPN Mobile in the Asian market.

As part of the deal, Peter Hutton, senior vice-president, sports, FOX International Channels, will take over as ESS managing director from Manu Sawhney, who was with the company for 16
years. Sawhney will stay with the company until August 31 to work with Hutton on a smooth transition.
Uday Shankar, CEO, STAR India, said the India team headed by Aloke Malik would remain in place.
ESS was formed as a 50:50 JV between two of the world's leading cable and satellite broadcasters, Walt Disney and News Corp, for Asia in 1996. The venture operates 17 channels in the Asia-Pacific region.
ESS operates in India through ESPN Software India and channels including ESPN, STAR Sports, STAR Cricket and ESPN News. The venture has revenues in excess of Rs 2,500 crore (Rs 25 billion), including advertising and subscription.
ESPN had also expressed interest in buying out STAR's stake. But, STAR had the upper hand as it won media rights to international cricket played in India from 2012 to 2018. "STAR's recent acquisition of the rights to Indian cricket, beating rival Sony, is an indication of its ambitions in this space," said a person familiar with the transaction.
Disney has also made huge investments in the Asian market, especially India. It bought out UTV Software last year for over Rs 2,000 crore (Rs 20 billion) and delisted it.
In the past two months, STAR has launched its second Hindi movie channel under a new brand 'OK', called Movies OK. It recently exited its television news business and dissolved its JV with the ABP Group. It also exited Hathway cable.
There are 11 sports channels in the country. The space is dominated by STAR and Zee, who currently own seven channels between them. These include ESPN, STAR Sports, STAR Cricket, TEN Sports, TEN Cricket, TEN Action+ and TEN Golf. Other channels include Neo Sports, Neo Prime, Sony Six and DD Sports.
According to STAR officials, globally News Corp is betting big on the sports broadcasting space. It is planning to launch a national sports network on cable television to take on ESPN in the US. News Corp has already bagged prominent sports rights like the US TV rights to the Fifa World Cups in 2018 and 2022, beating ESPN in the race.