Shapoorji, Kalpataru, Godrej pursuing Rs 60,000 crore opportunity in the region
Illustration: Dominic Xavier/Rediff.com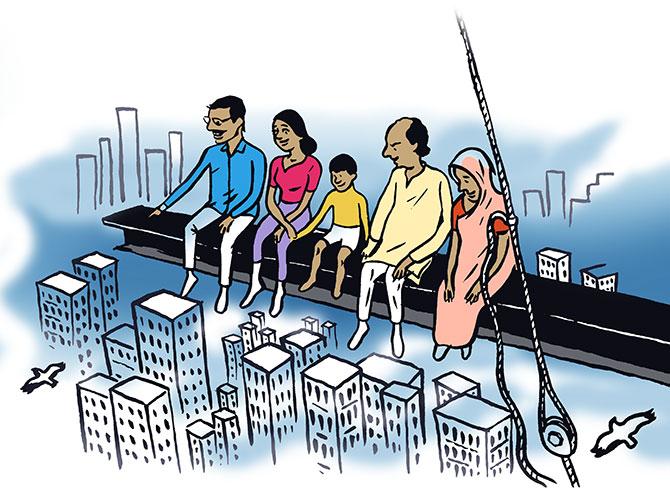 With leading property developers in the National Capital Region, such as DLF, Unitech and Parsvnath, battling financial or legal woes, many builders from Mumbai are heading north, sensing an opportunity to capture part of one of the most sought-after realty markets.
These builders plan to launch new projects either on their own or through acquisitions and joint ventures (JVs).
Opportunities for development as well as a fall in land prices following a prolonged slowdown in the sector have become a big draw for well-funded developers from Mumbai, such as Shapoorji Pallonji, Kalpataru and Dosti Realty, which have followed the likes of Godrej Properties to the region.
On the other hand, while Parsvnath has exited the Mumbai market, both Unitech and DLF, which have one or two projects here, are not launching any new projects.
Shapoorji Pallonji Real Estate is looking to launch and acquire a couple of projects in the NCR, mainly in Noida and Gurugram, said its CEO, Venkatesh Gopalakrishnan.
"Sales prices have corrected in the NCR. But if we buy land at the right price and adjust sale prices according to market, we should do well," said Gopalakrishnan.
Land prices, he added, had fallen significantly in the NCR, presenting a clear opportunity to buy land and launch projects.
Amit Goenka, managing director and CEO of Nisus Finance Services, a Mumbai-based fund manager, said land prices had come down by about 15 per cent in key micro markets of Noida and Gurugram, and by 20 per cent in peripheral locations of Ghaziabad and Greater Noida in the last four to five years.
Another property developer Kalpataru recently launched its maiden project in Noida Sector 128 on the Noida-Greater Noida Expressway and is looking to launch projects across the segments.
"We believe the NCR has immense potential for good developers offering quality products. In a decade, Delhi could be host to the world's largest urban agglomeration stemming from an anticipated 20 per cent population rise. This will spur demand for real estate across categories," said a spokesperson for Kalpataru.
When the assets of bankrupt Jaypee Infratech were being auctioned, it was reported that Lodha Group and Tata Housing had put in initial bids.
The final bidder was, however, a joint venture of Mumbai-based Dosti Realty and Sudhir Walia-promoted Suraksha Asset Reconstruction Company, whose offer was rejected by the committee of creditors.
Godrej Properties, which entered the region five years ago, is now touted as the most successful developer in the NCR property market, which is yet to come out of shocks of demonetisation, Rera and a prolonged slowdown.
Godrej has developed 11 projects in the NCR, of which nine are JVs and two development management contracts. It is looking to launch one or two projects every quarter.
"The markets are not doing well. But our ability to enter JVs successfully and give superior products to customers through market research helped us crack the market," said Mohit Malhotra, managing director and CEO, Godrej Properties.
Malhotra said they wanted to continue to dominate the market and enter new ones such as Faridabad and Gaziabad and enter newer areas such as plotted developments.
Goenka of Nisus Finance said Mumbai developers were pursuing Rs 50,000 crore to Rs 60,000 crore development opportunities in the NCR.
"To do that in Mumbai, it would have taken many years," he said, adding that developers can do a 2-3 million square feet in Mumbai and earn revenues of Rs 3,000 crore but in NCR, they can do three times the size of project.
Goenka said there was a lot of land available for development in Delhi, Noida and Gurugram.
"There are many opportunities for JVs and joint developments in the NCR," he said.
Santhosh Kumar, vice chairman, ANAROCK Property Consultants, said the kind of supply that had been hitting this market - and the execution of projects rather than mere announcements - were in many cases not aligned with the current market requirements.
"These factors have acted as a magnet for execution-focused developers, and Mumbai – because of its unique market dynamics – has been the most fertile environment for breeding such builders," Kumar said.