Industrialist Mukesh Ambani would release 'Wildscapes', a coffee table book on environment and wildlife protection, here on July 29.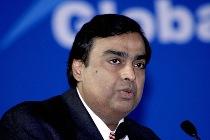 The book is a collection of wildlife photographs by Aurangabad-based lensman Baiju Patil and is presented by Rajya Sabha member Vijay Darda, who is also Chairman of the Lokmat group of newspapers.
The images in the book are from national parks and wildlife sanctuaries. "The idea is to generate awareness about this subject among children and youth and motivate them towards wildlife conservation," Darda's son and Lokmat Executive Director Devendra Darda told PTI.
Governor K Sankaranarayanan would preside over the book release function, to be held at Raj Bhavan.
Vijay Darda has taken several initiatives to promote conservation of nature and wildlife. One such project, Lokmat Green Initiative, involved planting one lakh saplings in a day.
 "The idea behind the book is to make readers aware about what can be lost forever if we do not act immediately to protect wildlife and environment," Devendra said.