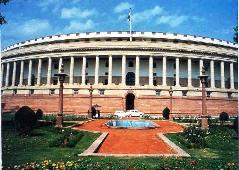 Members of a Parliamentary panel on Friday pressed for blanket ban on investment schemes promising unreasonable returns and demanded that a law be enacted to have a single regulator to deal with all kinds of chit funds.

The Parliamentary Standing Committee on Finance, chaired by BJP leader and former Finance Minister Yashwant Sinha, which met on Friday to discuss the chit fund scam, was of the view that there should be a 'single law and a single regulator' to deal with investment schemes, sources said.

The committee examined the issue in the presence of top officials of finance ministry and corporate affairs ministry and representatives of Securities and Exchange Board of India, Reserve Bank of India, Enforcement Directorate and Central Board of Direct Taxes.

The meeting was called in the backdrop of the collapse of the Saradha Group that had duped lakhs of investors of their hard-earned savings totalling thousands of crores of rupees.

The Parliamentary panel has asked the Finance Ministry
to submit a written reply on the operation of such investment schemes in the country and preventive actions taken by them.
A member of the panel and CPI leader Gurudas Dasgupta understood to have attacked Finance Ministry for the Saradha fiasco terming it as complete failure of the government.
According to sources, Gupta lamented that the finance ministry's different wings including revenue intelligence, enforcement directorate and income tax department could not spot something fishy in the schemes which was offered openly in newspapers.
Gupta is believed to have said that the finance ministry and even the state government could not find out that paying over 30 per cent returns on investment was untenable. The panel has called the RBI representatives on May 24 to the discuss the issue at length. Similarly the committee would meet Sebi representatives on May 31.
Among other Department of Economic Affairs Secretary Arvind Mayaram, Corporate Affairs Secretary Naved Masood and representative from other wings of finance ministry, including department of financial services and department of revenue attended the meeting.