Mumbai International Airport, too, is learnt to have issued a letter to SpiceJet asking it to clear outstanding payments.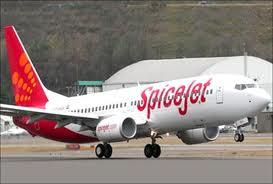 SpiceJet's troubles seem to be increasing with the Directorate General of Civil Aviation warning the airline on Monday of a showcause notice if the latter does not stop accepting booking for flights scheduled more than a month in advance.
Separately, the Airports Authority of India has decided to withdraw credit facility and put the airline on 'cash and carry' mode from Wednesday if SpiceJet fails to furnish bank guarantees for the cumulative dues pending with the Authority.
Mumbai International Airport, too, is learnt to have issued a letter to SpiceJet asking it to clear outstanding payments.
Highly-placed sources in the government said the DGCA has rapped SpiceJet for non-compliance of its directive about advance bookings issued on Friday.
"SpiceJet continued to accept bookings for flights till October 2015, even after the DGCA directive came.
"The regulator has warned the airline if it does not stop accepting such bookings immediately, a showcause notice will be issued on Tuesday," said a senior government official.
Responding to the development, SpiceJet chief operating officer Sanjiv Kapoor said, "We are in discussions with the DGCA on the matter."
Shortly after the DGCA instructions came in on Friday, SpiceJet had said the restriction on advance bookings would be 'counter-productive' and that the airline "will be discussing the pros and cons of this cooperatively with the DGCA".
On the AAI's move, the government official cited above said: "The AAI has said it will withdraw credit facility from Wednesday if SpiceJet fails to provide bank guarantee covering its entire dues."
Senior MIAL executives, too, said the operator has written to SpiceJet to recover dues of Rs 16 crore, which exceeds the airline's credit limited with MIAL.
DGCA sources pegged SpiceJet's total dues at Rs 1,600 crore (Rs 16 billion), which the airline owes lessors, vendors, income-tax department and airport operators.
However, the airline has contested this figure, saying the actual dues are much lower.
SpiceJet has been instructed to prepare and present a payment plan to the DGCA by December 15.
After reviewing the financial and operational parameters of the Budget carrier, Prabhat Kumar, director-general of civil aviation, had issued a series of instructions to the airline on Friday.
The regulator withdrew 186 slots of the airline and directed it to file a 'convincing schedule' by December 15.
The DGCA also instructed the airline not to accept bookings for the cancelled flights and refund all affected passengers within a month.
Responding to the DGCA's directions, Kapoor said in a statement: "SpiceJet today (on Monday) informed the DGCA and the public that for the near-medium term, it intends to operate a fleet of 22 Boeing737s and 15 Q400s, down from the 37 B737s we operated earlier this year.
As a consequence of the fleet reduction of 15 Boeings, unused slots are given back to the airports."
On future bookings on cancelled flights, he said: "This has already been stopped as part of standard process," adding, "SpiceJet provides refunds of all bookings for cancelled flights made directly with the airline."
SpiceJet has cut its Boeing 737 fleet to 24 aircraft from 42 at the end of last year.
The sharp cut had forced the airline to reduce its daily flights by a third to 232, sources said.
SpiceJet is currently operating 232 flights a day, compared with 340 a day in September.
The airline has pulled out of cities such as Surat and Lucknow, saying it is scaling down fleet to control costs and consolidate operations.
The DGCA has also directed SpiceJet to provide a report detailing the numbers of passengers affected by flight cancellations as well as refunds, daily. As of last week, the airline made refunds to 55,000 passengers.
The DGCA had also asked SpiceJet to pay salaries for November by December 15.
From January, it has been asked to make payments within the seventh of each month.
SpiceJet has said it has made payments to 85 per cent of its staff and payments to employees in high-salary brackets will be cleared this week.
The DGCA has also constituted a team to place SpiceJet's aircraft under "heightened surveillance" to ensure safety is not compromised on account of the airline's financial troubles.
The team will inspect aircraft flown by SpiceJet -- from which 115 commanders and 17 co-pilots resigned in the recent past - on a daily basis.
"We will keep a strict watch on the airline.
"We will ensure pilots working with the airline are not made to fly more than the hours specified in the flight-duty limitation norms due to shortage of commanders and co-pilots," said a DGCA official.
Civil aviation minister Ashok Gajapathi Raju had on Saturday ruled out any bailout for SpiceJet. "We have not supported any airline yet. We cannot support any one airline.
Then there will be questions why we are supporting X and not Y.
"They have been talking of investors for some time.
"We only hope that they (SpiceJet) continue to fly," said Raju.
For the September quarter, SpiceJet reported a loss of Rs 310 crore 9rs 3.1 billion), its fifth consecutive quarterly loss. For the year-ago period, it had reported a loss of Rs 559 crore (Rs 5.59 billion).
"In a recent report, the airline's auditors had termed the ability of the airline to operate a "going concern".