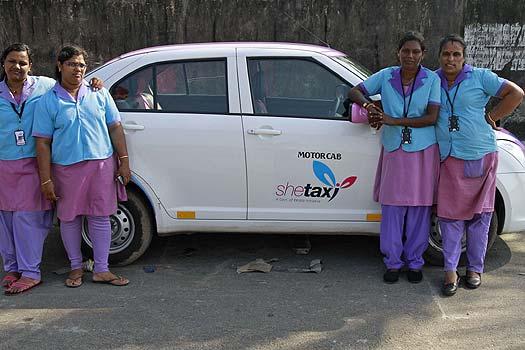 To ensure safer travel options, Kerala's all-women cab service 'She Taxi' is set to cross borders after the alleged rape of an executive by an Uber cab driver in the national capital put the spotlight on safety of women travellers in the country.
Touted as the country's first 24x7 taxi network by women for women, the technology-enabled cab 'She Taxi' has so far safely ferried over 20,000 travellers since its launch last year.
Considering the increasing incidents of atrocities against women travellers in the country, Gender Park, an autonomous institution under the state Department of Social Justice which initiated the programme, now plans to share the business model with state governments and state-run agencies.
A top official said they are ready to co-operate with other states to replicate the model of 'She Taxi' to ensure safer travel options for women.
"Every day we hear a number of atrocities against women and it is scary. Our department is willing to go to any extent to ensure women's safety.
We look forward to working with other state governments and are happy to share the business model with them," Gender Park Chief Executive Officer P T M Sunish told PTI.
According to Gender Park, She Taxis are the safest mode for women travellers any time of the day or night.
The exclusive taxi network programme for women was initiated in November last year with an aim to promote entrepreneurship, self-employment and security among women. At present a fleet of 40 She Taxies are running in Thiruvananthapuram and Kochi in Kerala.
Around 45 women work as cabbies under the programme and earn an average of Rs 15,000-25,000 as monthly income.
Another 10 She Taxies will be rolled out in Kozhikode next month, he said.
On the security aspect of She Taxi, Sunish said the pink-bodied cabs are designed and integrated with web-mobile based convergent technologies which will monitor and track the activities of the passenger as well as the cab driver.
"The 24x7 cab fleet system is incorporated with enhanced safety and security features that will facilitate immediate aid in case of any emergency situation," he said.
The cabs are also programmed to be demobilised upon directions from the '24x7 emergency call centre' to ensure safety in the case of an emergency, he said.
"We wanted to ensure safe, secure and responsible travel for women. Besides the safety aspect, we also wanted the programme to contribute to the social and economic empowerment of women.
So without just offering cabs free of cost to women, we offered loans at low interest rates to women and a moratorium period to own these taxis," he said.
Apart from fares, the She Taxi entrepreneurs earn through advertising revenue also, the official said. A city-based she-taxi entrepreneur Suma said women can enjoy a safe journey in her taxi cab.
"It doesn't matter whether it is day or night. My car is technology-enabled and I have been trained in self-defence. We all do our best to ensure a pleasant and safe journey for our passengers," Suma told PTI.