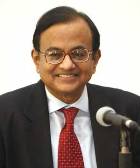 Union Home Minister P Chidambaram said on Monday more and more private companies were seeking Central Industrial Security Force cover for their offices and installations for which additional recruitment had to be made.
After the government agreed to extend CISF security to private companies, the demand for the force has increased, he said at a CISF Reserve Battalion raising function in Amaravathiputhur, Tamil Nadu.
In view of threat to private institutions, "We have to recruit more personnel and strengthen the unit."
He said it was not enough to set up infrastructure and industries. They need to be protected.
Only then would the country's economy sustain, he said. He also urged the youth to join the force and said the raising of the battalion in Tamil Nadu would help in the economic development of Sivaganga (his home district) also.
CISF director general N R Das said the Fourth Reserve Battalion of the force was being raised at a cost of Rs 248 crore (Rs 2.48 billion) in 100-acres allocated by Tamil Nadu government.
Image: P Chidambaram