'Unlike Big Bazaar, where the promoter calls the shot, in ABRL, professionals take decisions. So, every new CEO leads to a change in strategy, which confuses vendors and the team.'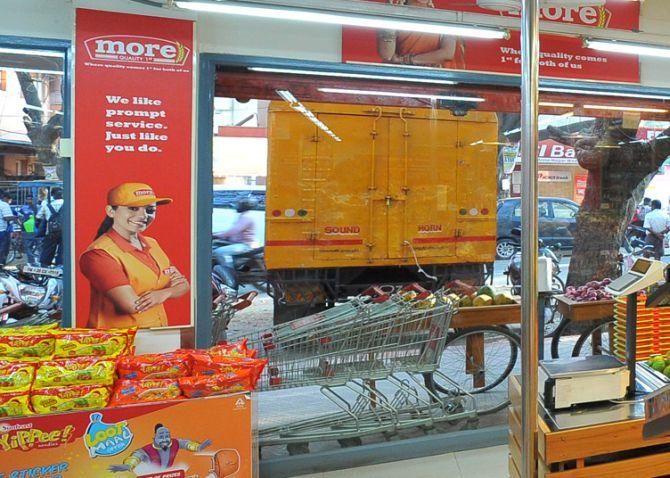 Aditya Birla group had big dreams for retail. In 2007, it planned to set up a network of a 1,000 stores, with an investment of Rs 9,000 crore.
In the same year, the group acquired a 170-store chain Trinethra to spearhead its retail play and hired global consultants such as AT Kearney, BCG to steer its business.
Cut to 2018. Aditya Birla Retail (ABRL) has a network of 490 supermarkets and 20 hypermarkets.
Birlas have invested Rs 11,000 crore in their personal capacity in debt and equity.
But there is news its retail chain, More, might be sold out and that talks are on with investors such as Samara Capital.
For the retailer, eyeing break even since FY13, the magic numbers are still eluding.
Though ABRL is yet to come out with FY18 numbers, it posted a loss of Rs 644 crore in FY17, though sales went up 20 per cent to Rs 4,196 crore.
So, what went wrong?
Beside competition from kirana stores, the chain had to face low margins in food and grocery. Net margins in grocery retail are believed to be 2-3 per cent.
Aditya Birla had to shut unviable stores and go slow on expansion in the recent years, which also reduced its volumes.
Sanjay Badhe, a former ABRL employee and now a marketing consultant, says the biggest problem with ABRL has been lack of continuity in senior and middle management, coupled with shifting and non-consistent vision.
Sumant Sinha, its first chief executive officer, was replaced by a Birla veteran, Thomas Varghese, in 2008.
Varghese was replaced by Pranab Barua, CEO of textiles and apparel division at AB Nuvo, in 2012.
In 2013, Visak Kumar (who reported to Barua), replaced Russell Berman as CEO of both the supermarket and hypermarket formats.
In 2016, Mohit Kampani, the former MD of Spencer's Retail, was named ABRL CEO.
"Unlike Big Bazaar, where the promoter calls the shot, in ABRL, professionals take decisions. So, every new CEO leads to a change in strategy, which confuses vendors and the team," a head of Mumbai mall, who did not want to be named, said.
ABRL's expansion plans have also been inconsistent, said Arvind Singhal, chairman at management consultancy Technopak Advisors.
"They opened in Thane and in Delhi. Then Trinethra's stores were shut down in Andra Pradesh. If you look at D-Mart, the chain is focused on certain cities in Maharashtra and Gujarat," he said.
According to the mall head, ABRL chose wrong locations for its hypermarkets.
"They were not present in good malls in Mumbai. If you are in a hypermarket, you should be in a good mall unless you are a value player like D-Mart."
D-Mart opens stores in neighbourhoods of large residential complexes. The mall head said More is not a category such as Big Bazaar or HyperCity, which are leaders in fashion and fresh produce, respectively.
"They (ABRL) first wanted to become Big Bazaar and then Star Bazaar (run by Trent). But did not become either," he said.
According to experts, ABRL committed a mistake of having both supermarkets and hypermarkets under the same brand.
More started with a plan of large hypermarkets of 75,000 sq feet and supermarkets of 10,000 sq ft.
"Dynamics of hypermarkets and supermarkets are different. If you have both in the same area, customers will be confused," a consultant said, adding Big Bazaar kept it simple, with 20,000 sq ft store in tier-II cities and 40,000-50,000 sq ft in tier-I cities.
An email sent to the AB group did not elicit any response.
Some like Raman Mangalorkar, CEO at data analytics firm Atom Data Lab, however, think ABRL is one of the few players that managed to survive in this turbulent retail environment.
"They have certainly committed mistakes, but have also learnt from them and have consolidated their position and improved their performance to become profitable.
"In the hypermarket space, they have resized their stores and improved their operational performance and in supermarkets they are profitable despite the structural challenges faced by this format in India," Mangalorkar said.
For the fiscal year ended March 2018, according to insiders, the company has achieved store-level break-even, resulting in 95 per cent of its supermarkets and 90 per cent of its hypermarkets becoming profitable.
The break-even is due to its continued focus on rationalisation through the closure of unviable stores, fine-tuning its store format strategy, and tight control on the operating cost structure.
"If the trend continues, ABRL expects to post Ebitda (earnings before interest, tax depreciation and amortisation) profits in the current fiscal year," group insiders said.
For the nine months ended December 2017, ABRL's gross margins improved to 21.5 per cent from 19.4 per cent in the 2014 fiscal year because of better product assortment.
According to the insiders, improving gross margins have also led to better store profitability (7.8 per cent for the first nine months of FY18 compared with 3.3 per cent in FY14).
Photograph: Courtesy, Aditya Birla Retail