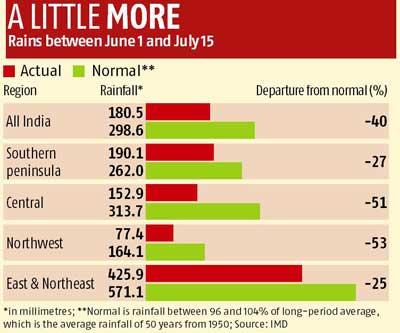 After playing truant for almost 45 days, the southwest monsoon has started showing strong signs of revival in the critical western, central and northern parts of the country since Tuesday but this has not totally erased fears of drought in some pockets.

The weatherman says if the momentum generated by these showers is maintained in August, the drought fears will subside.

According to the India Meteorological Department, the southwest monsoon has revived in parts of northwest and central India on Tuesday, bringing respite to people from heat and humidity.

The rains, which have been caused by a low pressure area developed over the entire region, might remain so for the next three-four days, after which there can be brief lull.

"The revival in rains seen over the past one or two days is expected to remain so in the coming three-four days as well, and thereafter things need to be seen as monsoon patterns can change in 24-48 hours," D S Pai, director of Long Range Forecast at IMD, told Business Standard.

Pai said though the showers have been better than expected, it might not be enough to wipe off the entire season deficiency, which presently stands at around 40 per cent as against 43 per cent last week.

The Australian Weather Department's recent forecast, too, has fuelled the optimism wherein it said El Niño weather phenomenon that curtails July-September rains is unlikely to be intense this year.

The monsoon entered India in June after a delay of four days. Since then, its progress, too, has been rather patchy.

In June, rainfall was almost 43 per cent deficient across the country, making the month one of the driest in the 100 years and triggering fear of a widespread drought.

The rains were 60-70 per cent below-normal in Rajasthan and Maharashtra, 70 per cent less in western Madhya Pradesh and almost 80-90 per cent lower than normal in the Saurashtra and Kutch areas of Gujarat.

The uneven progress of southwest monsoon coupled with its sub-normal forecast for the entire June-September season, triggered an alarm within the Narendra Modi-led government.

It announced a contingency plan for around 500 districts and is also preparing a Cabinet note for granting 50 per cent subsidy on diesel and restructuring of short-term crop loans.

Private weather forecasting agency Skymet also raised its drought probability percentage from 25 per cent in April to 60 per cent in June.

"Yes, the rains have revived and the deficit might go down further by another four-five per cent from the existing 40 per cent but the showers won't be sufficient enough to wipe off the entire loss and erase fears of drought," said Mahesh Palawat, chief meteorologist, Skymet.

He said the losses would also not go away as the current spell of rains is also not expected to be uniform across all stations and might not remain for long.

"Like in Gujarat, we feel it will rain for the next two-three days and then it will again go dry," Palawat said, adding any realistic chance of drought fears to receding will depend on whether the current rainfall momentum is carried on in August as well.

Nevertheless, the strong revival of rains has brightened prospects for kharif crops, whose acreage was almost 50 per cent less than last year till the first week of July.

"I feel farmers in central, western and northern India who have been waiting for their first bout of monsoon rains will immediately start planting and we might see a big jump in area coverage in oilseeds, pulses, cotton and coarse cereals this week as compared to the previous weeks," Union Agriculture Commissioner J S Sandhu told Business Standard.

Sandhu said even if the next round of rains comes after a gap of 10-15 days, the moisture replenished by the current rains would stand good.

"We are expecting an almost 15-20 per cent jump in sowing this week as compared to the previous week," Sandhu added.

In the week ending July 11, kharif crops were sown on 25.66 million hectares -- half of the area covered during the corresponding period last year.

More important, the sowing was 35 per cent less than the normal area, which is the average area sown in the past five years.
With inputs from Hrishikesh Joshi in Pune