This may rescue pulses, cotton and oilseed sowing; rain revival in the south to take longer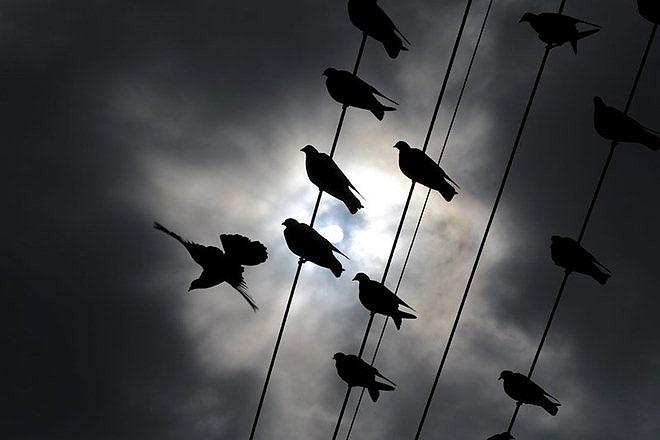 The southwest monsoon, less than satisfactory in parts of central India, where most of the oilseeds and pulses are grown, is expected to make a strong comeback in the coming few days.
However, the southern region might have to wait a little longer for getting heavy rain.
India Meteorological Department (IMD) says rain over central India during the first 40 days of the four-month southwest monsoon that started from June 1 has been around eight per cent below normal, triggering fear of an adverse impact on the standing pulses, oilseeds and cotton crops.
Over southern peninsular India, rainfall was nine per cent less than the average from June 1 to July 11. Overall, across the country, the southwest monsoon has been one per cent below normal from June 1 to July 11, at 259.6 mm.
In the four-month season, July and August are the critical periods for getting good farm output, as this is the time of highest rain.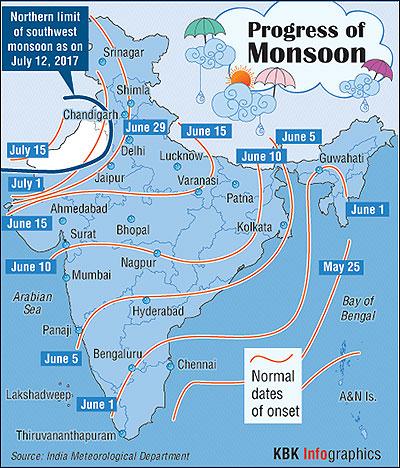 The weather office said the situation might turn for central India in the next few days under the influence of a low pressure area forming over eastern Uttar Pradesh.
The impact of this would mean good rain in most of Madhya Pradesh (MP)in the next few days. In Gujarat, showers might be very heavy from Thursday to Sunday.
"These might help in wiping off all the seasonal deficit and help in saving the standing crop in some places," Mahesh Palawat, chief meteorologist at private weather forecasting agency Skymet, told Business Standard.
From June 1 till now, the southwest monsoon has been 15 per cent less than normal in MP and five per cent less so in Gujarat.
In Maharashtra, six per cent less. These three states are big producers of oilseeds, pulses and cotton during the ongoing kharif sowing season.
A prolonged dry spell, now set to be broken, would have impacted their yields.
Till last Friday, the area under pulses was 23 per cent more than last year, while that under cotton was six per cent more and oilseeds around five per cent more.
IMD's latest report says rain is very likely over most places in central and east India, and along the west coast in the next two to three days.
The levels in 91 major reservoirs across the country rose to 21 per cent of their full capacity last week, on the back of good showers over North India. Till a few weeks earlier, it was 19 per cent.
Photograph: Reuters