JSW Steel is learnt to have submitted its resolution plan along with AION Capital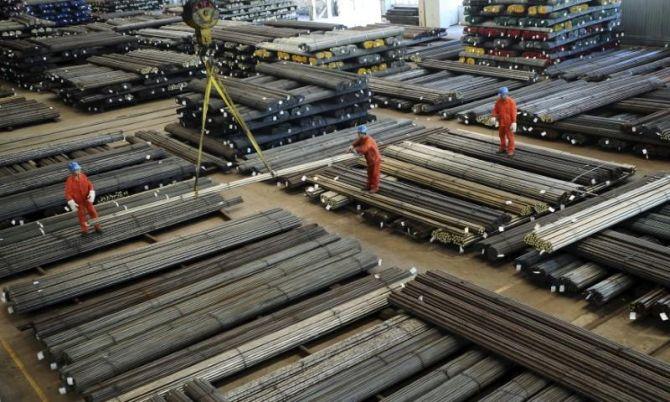 Monnet Ispat & Energy has become the first stressed company to get resolution plans from prospective bidders.
It is among the 12 large corporate loan defaulters referred by the Reserve Bank of India for insolvency proceedings.
JSW Steel is learnt to have submitted its resolution plan along with AION Capital.
JSW Steel will have a majority stake in the special purpose vehicle that proposes to take over a part or all of Monnet Ispat & Energy.
Sources close to JSW said the company was likely to be the only bidder.
Tata Steel had earlier expressed an interest in Monnet.
When contacted, a Tata Steel spokesperson said, "We evaluate strategic opportunities for growth. This is an ongoing process."
Emails sent to JSW Steel went unanswered, while a spokesperson for AION Capital declined to comment.
TPG, which had submitted an expression of interest (EOI) for Monnet, also declined to comment. SSG and Blackstone had also submitted EOIs.

Monnet Ispat & Energy owns a 1.5 million tonne integrated steel plant along with a 0.8 million tonne sponge iron plant, a 2 million tonne pellet plant, a 0.96 million tonne sinter plant and a 230 MW captive power plant in Chhattisgarh.
The company also has 7.5 million tonnes of coal beneficiation facilities in Chhattisgarh and Odisha.
Industry sources said, if there was a clear winner, it could be announced over the next week or so.
It was important for the government to showcase some success stories of stressed asset sales so that more parties come in.
"With the deadlines of many of the non-binding bids getting extended, there were concerns of the process getting derailed.
"Also, the sudden government ordinance led companies to rejig their plans as some private equity funds were talking to bid with the promoters and now had to look for a new strategy," a source close to the development said.
A committee of creditors must finalise a resolution plan for a company facing insolvency proceedings within 180 days, with a provision for an extension by 90 days.
The 180 days for Monnet Ispat & Energy will be up on January 13 and 270 days on April 4.
The previous deadline, November 20, for Monnet Ispat & Energy was extended after bidders sought clarifications on the company's income tax liabilities.
Yet Monnet Ispat & Energy became the first large loan defaulting company to cross the dates for resolution plans because most of the other companies facing similar proceedings have had their deadlines extended as well.
Among the steel companies referred by the RBI for insolvency proceedings, Electrosteel Steels had a deadline of December 11, but this has been extended to December 26.
Some of the other companies are contemplating extending their deadlines for submission of resolution plans.
Once resolution plans are submitted, the committee of creditors will evaluate the proposals.
Qualitative and quantitative aspects would be taken into consideration and lenders would not merely look at debt servicing, sources close to the development said.
"The responsibility will be on the committee of creditors to validate and check whether there is any link between the existing promoter and the prospective bidder.
"The requirement, imposed by an Ordinance, will have to be considered in spirit through due diligence and forensic checks," said Vikram Babbar, partner, fraud investigation and dispute services, EY.
A recent Ordinance added a new section to the IBC that prohibits promoters or sister concerns of companies that have defaulted on their loans for over a year from bidding for these companies.
Photograph: Reuters