Ignore negativity, harness positive energy on social media: PM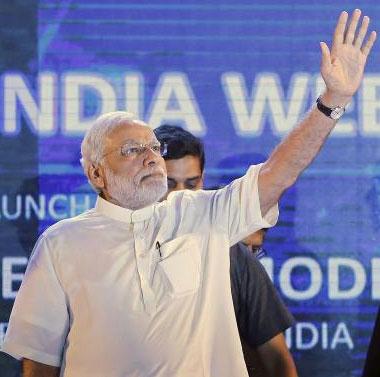 Seeking their contribution in making 'Digital India' programme successful, Prime Minister Narendra Modi has asked activists of digital media to ignore negativity and instead harness positive and creative energy on social media for the country's growth.
Interacting with a section of such activists after inaugurating the 'Digital India Week', the prime minister asked them not to respond to negative and harsh comments on social media with harsher responses.
Modi was speaking to them at a review meeting of 'Digital India' programme and 'MyGov' platform at his residence last evening. Around 125 volunteers of social media and those associated with the 'MyGov' platform participated in it.
He also told them about the power of social media or digital democracy and encouraged them to be more participative while being positive.
"He asked us to help make the Digital India program successful to help transform and benefit India through direct sharing of ideas with the government. He encouraged the active volunteers to discuss their experiences and share ideas on 'MyGov' platform.
"He guided everyone on the power of positive and creative energy that should be harnessed to contribute towards development and growth of India," said Arvind Gupta, chairman of BJP's IT Cell.
He said the Prime Minister discussed the power of participative platform or digital democracy and the power of positivity and creativity that lies within social media.
"The positive message has been that ignore the negativity and take positive energy forward to contribute in nation's development," he said.
Gupta said, Modi is the prime minister of the world's largest democracy, despite the negativity that has been written about him over the course of many years.
Another volunteer said that he asked them not to respond to abusive language or negative comments in the same tone.
"Why should we give that person in the same language and we should send across a positive message from our side, the Prime Minister told us," she said.
Launching the 'Digital India Week', Modi had pitched for a digital revolution in the country and exhorted the industry to boost domestic production of electronic devices, which account for second largest imports, under the 'Make in India' programme.
He said digitalisation of all government work is essential to deal with problems like corruption, help provide transparent and efficient governance and bridge the rich-poor divide.