India-located funds have already raised $3.9 billion so far this year.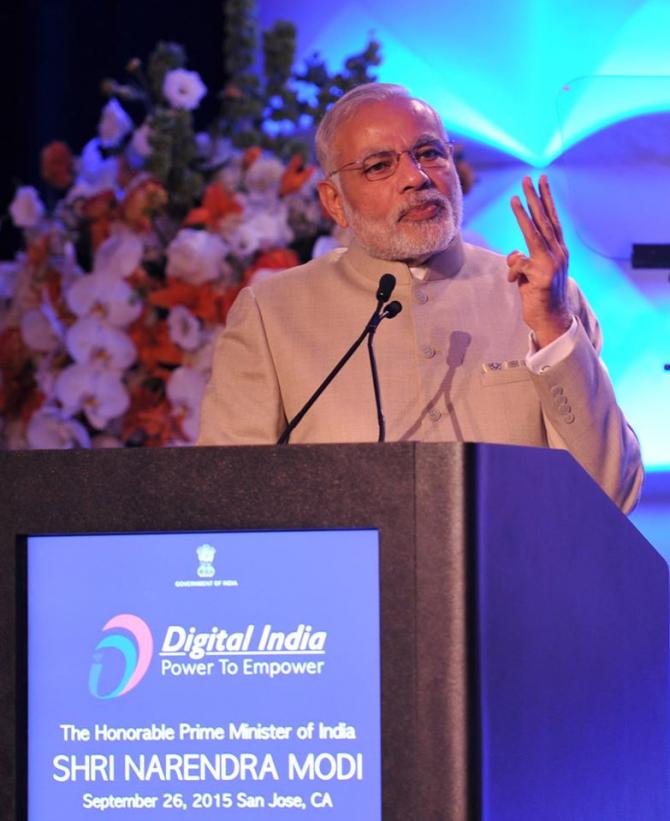 Prime Minister Narendra Modi's visit to the US has made Qualcomm Ventures announce $150 million India-dedicated fund to invest in start-ups.

This is not the lone incident when Modi has been able to woo private equity (PE) and venture capital (VC) investors to invest in India.

Last year, during his visit to Canada, he had got commitment for $1 billion India-focused fund from Prem Watsa-led Fairfax Financial.
Modi's push is expected to help the India PE sector raise its largest capital in the past seven years.

According to McKinsey, India-located funds have already raised $3.9 billion so far this year.

This includes India Value Fund and Everstone Capital raising $700 million and $730 million, respectively, in the past three months.

Besides, Renuka Ramanth-led Multiples is expected to close $650 million fund-raising this year. This will take it to at least $4.5 billion, the highest since the high of $7.4 billion raised in 2008.
"Sentiments have improved as inflation has come down creating room for lowering interest rates. Also, there is slight upturn in business cycle. These are all lead indicators for better growth in the next 12 months," says Vishal Nevatia, managing partner at India Value Fund that raised $700 million in July.
"Investors in private equity funds are cautiously optimistic today as they see the government talking about bringing changes for the benefit of the economy. But there is still much to be desired in terms of GST implementation, revival of stuck projects in infrastructure space and financial sector reforms," he says.
There are others, too, who are planning to raise funds, signalling a clear revival for PE investments.

ChrysCapital and Sequoia India plan to raise about $700 million each in their largest funds.

"Dedicated outreach to investors by Modi has really helped," says Toshan Tamhane, partner and co-leader (private equity practice) at McKinsey & Company in India. "Over the years, there was a slowdown but he has brought the sentiment back," says Tamhane.
The revival in fund-raising has also been boosted by record exits in the PE space since the Modi government came to power.

According to McKinsey, Indian private equity investors made $5.6 billion worth of exits in the first six months of 2015.

This will help the sector easily cross the earlier record of $6.1 billion for full year in 2012 as well as 2013.

During one year of Modi government between June 2014 and July 2015, the PE sector made exits worth $8.9 billion.
"Surely, the government needs to follow up on reforms (goods and services tax, foreign direct investment norms, etc) but loudly and consistently telling the story is important. It does not hurt that this has been a great year for exits," says Arpan Sheth, private equity practice head at Bain & Company India.

These exits helped the PE players show better track record on their investments return.

With this track record, these players are now able to go back to their limited partners who invest in their funds. But there are also other who see the real revival in PE investments some time away.
"Hope has never been higher, but Indian businesses have to start to invest," says Sanjay Nayar, CEO of KKR India. "They are instead burdened (because of the past few years) with high leverage, regulatory and policy bottlenecks and, hence, we see more over-leveraged and stressed situations rather than growth opportunities."

He adds even the rural sector has come off drastically with consumer and tractor companies seeing a slowdown from the once-famed rural consumer.
"Long-term strategic PE and VC capital is amply available for India. A supply-side boost by the government coupled with a targeted consumption boost should help real growth come back. That's when PE and VC capital will be even more active and very useful," says Nayar.