The private discoms that join the scheme would only benefit in terms of operational efficiency and there will not be any financial bailout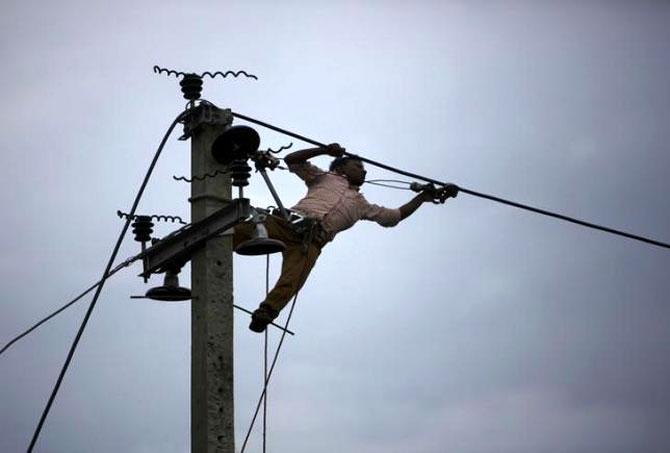 Increasing the ambit of National Democratic Alliance (NDA) government's flagship scheme Ujwal Discoms Assurance Yojana (UDAY), the ministry of power would soon approach the Cabinet to incorporate private power distribution companies (discoms) in it.
"The government is looking at bringing in some amendments in the UDAY scheme to accommodate those states which have privatised discoms," said Piyush Goyal, Union minister of state for coal, power, and renewable energy.
Goyal was responding to a question on power distribution in the states where privatisation did not yield desired results. The minister cited the example of Odisha, which has approached the Centre to join UDAY.
"I am going back to the Cabinet to see how we can support states like Odisha which privatised (discoms) but are going through problems," the minister added.
Odisha was a pioneer in privatisation of discoms but "possibly did not handle the process well and because of which it failed," said the minister. When asked about the ambit of the scheme, he said, "It will be a policy decision. Any state which wants to join for operational benefits would be able to join."
He clarified the private discoms that join the scheme would only benefit in terms of operational efficiency and there will not be any financial bailout.
UDAY is the restructuring plan of the NDA government to bailout the financially and operationally beleaguered state-owned power utilities. One of the first steps enlisted in the MoU (memorandum of understanding) is the takeover of 75 per cent of discom's cumulative debt - 50 per cent by March 2016 and the balance by next year.
States would issue non-SLR (statutory liquidity ratio) SDLs (state development loans) against the debt at prevailing market rates. The balance 25 per cent would be issued as sovereign-backed bonds by discoms.
The second part of the scheme envisages a slew of measures to improve operational efficiency, with major target being reducing AT&C (aggregate technical and commercial) losses from current levels to 15 per cent by 2019. Improving collection and billing efficiency, considerably reducing energy theft, reducing gap between ACS and ARR of discoms are also part of the targets.
The scheme underlines the need of regular rate revision and keeping power affordable. Once signed, the states will also enjoy rationalised coal supply and central finance assistance.
So far, 10 states have joined UDAY and eight have issued bonds worth Rs 1.11 lakh crore during the last financial year.
The Delhi government has a joint venture with Tata Power and Reliance Infra-promoted BRPL and BYPL. Similarly, Kolkata has CESC as the discom in urban areas. Odisha, which tried privatising its three state-owned power discoms cancelled the licence of Reliance Infra last year because of the latter's failure to bring in performance viability in 15 years of operations.
Tata Power Delhi Distribution and Reliance Infra-promoted BSES wrote to the Centre regarding participation in UDAY last year.
"UDAY will help in reducing power and interest costs which will ultimately have a direct bearing on rate. Recovery of accrued revenue gap in an equitable manner will minimise impact on consumer tariff," BSES wrote in its letter.
"Even though Delhi discoms have been able to set off nearly 50 per cent of the average tariff increase by the reduction in AT&C losses in the last 13 years, yet the revenue gap of Delhi has reached Rs 25,000 crore. This is primarily on account of unprecedented increase in power purchase cost over last 5-6 years and non-availability of cost reflective tariffs," TPDDL wrote.
Company executives said the matter did not go through as the Delhi government did not support the proposal. Aam Aadmi Party government halved the power tariffs after coming to power last year. Power tariffs in Delhi have not been hiked since 2014.
There are also certain cities which have private distribution as a franchisee model. Some of these cities are Agra (Uttar Pradesh), Bhiwandi (Maharashtra), Ahmedabad, Gandhinagar and Surat (Gujarat). Torrent Power runs the franchise in all these cities. Kanpur, one of the largest industrial cities in UP, tried hands at private franchise with Torrent Power but the agreement fell through.
Private discoms & challenges
Delhi
Tata Power Delhi Distribution, BSES Rajdhani Power and BSES Yamuna Power (both promoted by Reliance Infra)
Challenge:
Delhi has operationally improved in past 13 years but rate hike still a political subject
Odisha
In 1999, the state was first to award its three discoms - NESCO, WESCO & SOUTHCO to Reliance Infra
Challenge: Last year, it revoked distribution licence after R-Infra failed to turn around power supply and operations. Odisha wants to be part of UDAY to improve operations
Kolkata
CESC operates in urban areas of the city
Challenge: West Bengal power distribution utilities running in losses but are yet to join UDAY
Photograph: Navesh Chitrakar/Reuters