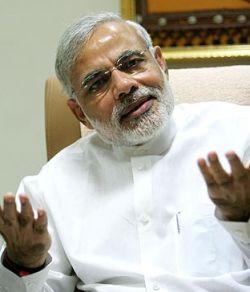 India's Prime Minister-elect Narendra Modi is a "pragmatist" and will not be hung up about US' denial of a visa to him, but it will take "more careful management and attention" to overcome the "pain" of the past years, a former top American diplomat has said.
Frank Wisner, former US Ambassador to India, said while Modi's "instinct" will be to give economic growth a priority in India, he cannot escape the "three big issues" and major foreign policy challenges related to China, Pakistan and Afghanistan as he assumes power.
Wisner said the US and India "are going to have to work on the relationship" even as the denial of the visa to Modi will remain an issue that cannot be wished away.
"We as Americans were wise to step into a new relationship with Modi with a degree of diffidence," Wisner said.
"The denial of the visa is a fact, it cannot be just wished away (by saying) the past is the past and the future is ours. It is going to take more careful management and attention to the relationship to overcome some of that pain,"
Wisner said during a discussion organised by Asia Society here yesterday on the Indian elections.
He said Modi is a "pragmatist" and is not going to be hung up (over the visa issue) "but this hurt is going to be evident".
Welcoming President Barack Obama's conversation with Modi after his election victory and his invitation to visit the White House, Wisner said Vice President Joe Biden ought to visit India as an "envoy" and discuss ways to strengthen ties.
"We need to get the strategic dialogues set up and running again. We are going to have to work on this relationship. We cannot assume that the job is all Modi is to do. That will be the right instinct," he said.
Wisner said the election did not reveal very much about Modi's thinking on foreign policy
On other foreign policy challenges, Wisner said he does not see Modi taking "initiatives" with Pakistan even if there may be opportunities.
"He will be very cautious about doing that and that may prove to be a risk for him, for Pakistan as a problem for India never stays still."
On China, Wisner said he does not expect Modi to be "confrontational", but will "nonetheless work for practical deals" and continue to strengthen India's defence capacity.
The former ambassador said under Modi, India would find itself "struggling" to keep some balance in Afghanistan "even if it eventually means backing some rebirth of the northern alliance if the Kabul regime can hold on."
Commenting on the economic priorities for the new government, Wisner said Modi's policies are going to be "very decisive" and his "immediate task" would be to tackle inflation for the Advanced Study of India at the University of Pennsylvania, said he expects Japan will be the country with which India's relations will be strengthened the mostunder Modi's leadership.
"It kills three birds with one stone," Kapur said, adding that Japan is "petrified" of China regarding the economy.
He said investments in infrastructure are on the anvil from Japan and they are exactly of the type that Modi "loves".
India and Japan may also collaborate on the issue of defence.
He noted that India's relations with the US may not "bounce back very warmly very fast" but Washington will "probably encourage" strengthening of New Delhi-Tokyo relations.
Kapur said if the India-US relations bounce back, it would be driven by American businesses rather than by the state given the "baggage" that is there.
"If the economy picks up and the US businesses get re-interested (in India), these will be the drivers of the relationship in the next year or two," Kapur said.
Kapur said he expects to see a shift in government spending from government consumption to investment.
He added that the Goods and Services Tax, the rollout of which has remained stalled for several years, could be passed under a Modi government.
Modi-led government in India will bring the faith of the people back in "governance," creating jobs for the youth and ensuring security for women, Bharatiya Janta Party's national secretary Vani Tripathi said.
"The most important thing this government would do is bring the faith back in governance. More governance, less government is the mantra," Tripathi said in her brief remarks via video link at a discussion organised by Asia Society on the Indian elections.
She said the key agenda of the Modi-led government would be to bring the faith back in jobs, create jobs for youth and working to ensure a safe environment for women.