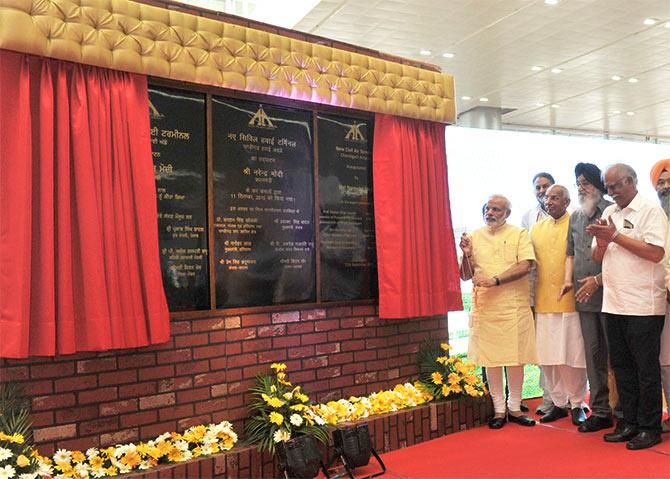 Prime Minister Narendra Modi on Friday inaugurated a swanky new terminal at Chandigarh airport which will handle both domestic as well as international flights, and said it will play a key role in the economic development of the region.
Describing it as 'magnificent' building, Modi dedicated to the nation the modern facility which is expected to boost the economic and industrial development in Punjab, Haryana and Himachal Pradesh.
The ambitious Rs 939-crore (Rs 9.39-billion) project, which is being seen as a 'harbinger' of regional development for the northern part of the country, will be operated and maintained by Chandigarh International Airport Ltd, a joint venture between Airports Authority of India and the governments of Punjab and Haryana.
AAI has 51 per cent stake in the project while Punjab and Haryana have 24.5 per cent equity each.
Modi, who visited Chandigarh city for the first time after becoming Prime Minister last year, said at a public rally later, "I had been in Chandigarh. I never thought that such a magnificent airport could come up in Chandigarh. I am very impressed by the airport. It will enhance the grace of the city.
"Be it Punjab, Haryana, Chandigarh, Himachal Pradesh and Jammu and Kashmir, this airport will play a major role in the economic development of these areas," he said.
The Prime Minister asked officials concerned to make airport services beneficial for farmers to fetch them better returns.
"I have told officials that this airport should not only be meant for passengers. I have asked them to work towards how this airport could benefit our farmers whose produce could reach every nook and corner of the country so they could realize better remuneration," Modi said.
Governor of Punjab and Haryana and Administrator of the Union Territory of Chandigarh, Kaptan Singh Solanki, Union Minister for Civil Aviation, P Ashok Gajapathi Raju, Punjab Chief Minister Parkash Singh Badal and his Haryana counterpart Manohar Lal Khattar were among those present on the occasion.
Before inaugurating the terminal, Modi was shown a model of the new building and taken around a photo exhibition depicting different stages in completion of this project and its salient features. He also showed interest in the murals on various cultural aspects of the region.
The PM was also presented a memento by Civil Aviation Minister Raju on the occasion.
Designed on green building concept, the terminal in Mohali (Punjab) is spread over 53,000 sqm and can handle 1,600 passengers, including 450 international travellers, during peak time.
The apron capacity of the airport will be 8 aircraft, including cargo planes.
With a parking facility for 500 cars, it is equipped with 48 check-in counters, nine immigration counters, four arrival baggage carousels, three passenger boarding bridges, six escalators and 14 lifts.
Depicting heritage and culture of Punjab, Haryana and Chandigarh with murals, paintings and sculptures, the terminal building has five levels with arrival hall at ground floor, departures in the first floor and services, including baggage handling system, and offices in the basement.
Built by construction major L&T, the terminal sets a new benchmark in sustainability with green technologies like using about 55 lakh (5.5 million) fly ash bricks, cavity wall, double insulated roofing, energy efficient chillers and sensor-based plumbing system to save water.
It boasts of a sewage treatment plant of 600 KLD, which is based on environment-friendly extended aeration technology, water treatment plant, rain water harvesting and re-use of treated water for flushing and gardening.
International-level baggage handling system and Wi-Fi facilities have also been provided.
Punjab had given 305 acres of land at Jheorheri village in Mohali to AAI in 2008 for setting up the facility.
Both domestic and international flights will be operated from there once it is functional while the existing terminal building will be used for other civil aviation purposes.
Two airlines have already been given permission to operate international flights to Dubai from Chandigarh, official sources said adding that it would take at least a month to start operations from the new terminal.
With lack of air connectivity remaining the sore point for people especially from the industry here, this airport will allow the travelers, including Punjabi NRIs, to catch their flights for international destinations from here instead of Delhi.
Industry representatives have said that exporters of this region could now look forward to capitalize on the immense business opportunities this airport will offer.
The new terminal has also been mired in controversy over it name as Punjab had been demanding that the airport be named as 'Shaheed-e-Azam Sardar Shaheed Bhagat Singh International Airport, Mohali'. Punjab Assembly had unanimously passed a resolution in this regard.
However, the Haryana government had objected to the mention of 'Mohali' and insisted on keeping its name after Chandigarh.
Image: Prime Minister Narendra Modi inaugurates the New Civil Air Terminal at Chandigarh airport on September 11, 2015. Photograph: Kind courtesy, Press Informaton Bureau