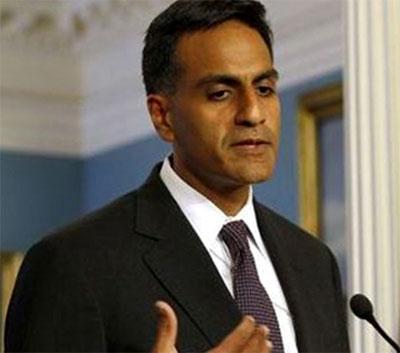 Richard Verma (left), the US Ambassador to India, said plenty of excitement was there in the air over Prime Minister Narendra Modi's visit to the Silicon Valley. Verma was speaking on "Why India Matters" at a small event hosted by Shorenstein Asia-Pacific Research Center at the Stanford University in Northern California a day ahead of Modi's visit.
The PM will be landing in California on September 26 and would fly back to New York on September 27 after the community reception at the SAP Center.
Pointing to the New York event where Modi attended the CEOs' meeting, Ambassador Verma said, "I was there yesterday and there was lot of excitement and now we are looking forward to the meeting between US President Barack Obama and the prime minister on September 28. There is so much happening between the two countries."
Talking to Rediff.com on the sidelines of the event Ambassador Verma said, "Silicon Valley is important for different reasons. There
is a considerable Indian population here. Secondly, technology and innovation are here and many solutions here potentially have application in India as well."
He said conversation between the investors will be based on technology and innovation.
"It will increase economic and commercial linkages between Northern California and India and this will be good for both," the Ambassador said, adding, "His coming to the Silicon Valley is not just Digital India but for much broader reasons."
"Digital India and community events are important but I think he is coming to talk about what's happening in India and also why it's a good time to invest there and also increase two-way trade and linkages between both the countries," Verma told Rediff.com. He said the prime minister's visit is all about creating opportunities for both the countries at all levels. "We have to work together on climate change, address our security concerns and keep our people safe."
Talking questions from the audience on corruption in the Indian government, Verma said positive steps are being taken to curb the menace.
"Look, I know it's a long way to go and its not just a problem in India but yes, it's a big priority," Verma said.