San Francisco Bay Area's investor community hopeful that Prime Minister Narendra Modi's Silicon Valley visit will lead to policy changes.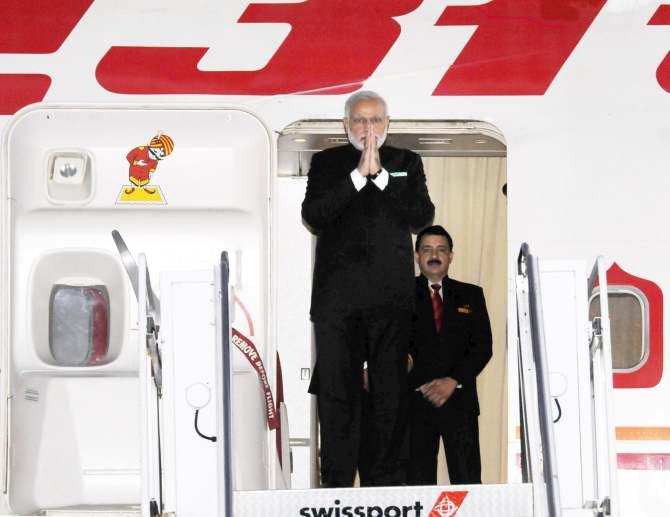 Image: Prime Minister Narendra Modi arrives at the JFK Airport in New York on September 23, 2015. Photograph: PIB

Prime Minister Narendra Modi reaches the San Francisco Bay Area on September 26 to a packed schedule, and understandably there's a sense of excitement running through the investor community who expect major policy changes from him.
Asked about the reason for this air of expectation, B V Jagadeesh, managing partner, KAAJ Ventures, and reception chair for the Indo-American Community for West Coast, USA, a non-profit formed to host Prime Minister Modi's reception at SAP Center on Sunday, September 27, told Rediff.com: "Lots of things actually, from day one of the conversation or meetings we had with the event organisers, where I stated very clearly if all that you are going to do is replicate the Madison Square Garden kind of a speech, rather than addressing issues and solving the burning issues, then there is no interest. People have listened to him multiple times, it's not very different."
The issues dogging investors have been addressed to the Prime Minister's Office as well, he said. "I am impressed that they are listening, at the way they took inputs from investors, so I hope from an entrepreneur's perspective and from the product development perspective -- because that's where I am interested -- I am waiting to see how the government is actually going to respond."
Asked specifically what the expectations were, Jagadeesh said, "I think we still have a long way to go to make India more business-friendly. There is a lot of promise and talk but it needs to translate into simplicity, it needs to translate into ease of doing business, especially when you go into entrepreneurship mode," Jagadeesh, also one of the panellists at the Indo-US Start-Up Konnect to be hosted by TiE Silicon Valley on Sunday, and a venture capitalist, philanthropist and serial entrepreneur in the technology field, said.
"You need a stable environment and the policies you make should last," Jagadeesh added. Investors are not dumb, they will look for return on investment, how they will get their return and what is the guarantee for it, whether you are there five years from now or not.

Further, he said, the whole nature of entrepreneurship is about solving problems, sometimes it happens and when it does not happen the owner wants to shut down and move on, but the way it is structured in India, it is not easy to shut down a company.

"Business should be all about making things easy, we are again saying make it simple and straight-forward and the money will pour in," said Jagadeesh.

"I am hoping Modi after visiting Silicon Valley along with his policy-makers will understand what kind of issues exist and how can they make it easy and hopefully implement the feedback back home," Jagadeesh said.

Pointing to the cell phone revolution in India, he said before 1999 owning a phone in India was a luxury and now that has changed dramatically. It has contributed to the economy, and that is the "impact a policy change could make".

"So, in the same manner, we as investors want things to be simplified for start-ups," said Jagadeesh and reiterated, "I would ask the government again to make the policy of shutting down and starting a company easy. Give tax exemption to start-ups on capital gains."

Jagadeesh should know all about it. In 1997 he had started iNabling Technologies in Bangalore which didn't do well. But so far, he has been still unable to shut it down.

Asked why he was so hopeful despite there having been no big-ticket policy reforms yet to impress the foreign investors, Jagadeesh said, "For the first time we have a prime minister who is at least putting a spotlight on the burning issues in India."

"He is the first prime minister who recognises that technology can have a big impact," he said. "Nobody even wanted to talk about clean India or toilets for girls but these create a huge impact, and I have to give credit to him, these are huge issues in India that need to be addressed."

Jagadeesh believes that even if 10 percent of what Modi is thinking of translates into action, it is better than zero. "I am hopeful something will come out of him coming to Silicon Valley."