Lukewarm response from private investors and turf battles between government agencies have resulted in delaying Modi's ambitions. Sahil Makkar reports.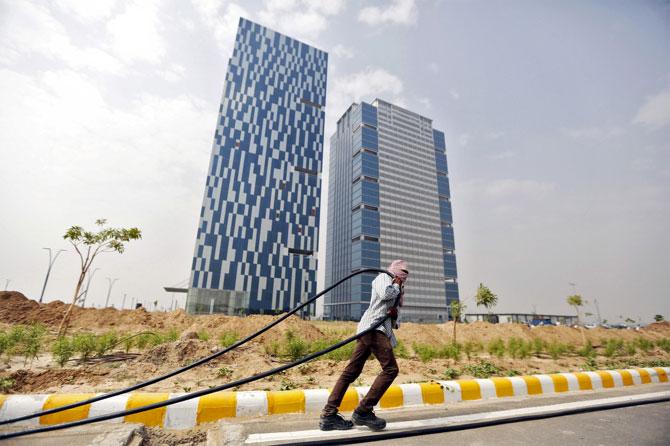 IMAGE: Building a smart city in Gujarat. Data suggests that maximum work on the Smart Cities initiative has taken place in the BJP-ruled states of Madhya Pradesh, Rajasthan and Gujarat.
Photograph: Amit Dave/Reuters.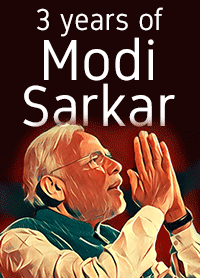 Prime Minister Narendra Modi's ambitious Smart Cities Mission has made only halting progress since its launch two years ago. Lukewarm response from private investors and turf battles between government agencies have ensured projects are off to a slow start.
The National Democratic Alliance government had launched the Smart City Mission in June 2015, with the aim to convert 100 cities into 'smart cities' and improve the quality of life through facilities such as adequate water and electricity supply, sanitation, public transport, solid waste management, safety, health, education, intelligent traffic management system, CCTV surveillance and e-governance.
The idea was to develop a part of the city with modern features. This could be done either by retrofitting a minimum patch of 500 acres or redeveloping 50 acres of the city.
Also, the chosen city has to showcase at least one pan-city smart feature that touches the lives of all citizens.
The urban development ministry announced the first list of 20 cities for the project in January 2016, and asked the states to form a Special Purpose Vehicle (SPV), with equal equity participation from urban local bodies. Though private participation in SPV was allowed with a rider that the management control would remain with the government, currently no private company has joined any SPV in any state.
Private players not enthused
The SPVs have exclusive jurisdiction over the land for development and implementation of projects.
One of the tasks of the SPV is to ensure all agencies involved in the development of a city, along with the local level political leadership, work in tandem cutting through the red tape.
Jagan Shah, director of the National Institute of Urban Affairs, which supports the urban development ministry in the execution of its programmes, says, "The SPVs were created under the Companies Act in order to bring professional competence and increase accountability. That kind of accountability is best achieved through professionals hired from the market."
He suggests that the SPV boards can also be more creative about inviting independent directors as they can "bring unique viewpoints and add value to the decision-making."
Shah further says that "the SPVs should benefit from greater decentralisation".
To ensure private participation, Shah makes a case for exploring partnerships with local firms and technical institutions instead of relying on large consultancy organisations and agencies that are based in the metros.
"What we need most is to build the capacities of the urban local bodies and cultivate the available resources. That would be the smart thing to do," he says. In his view such practices would also capture the spirit of "frugal innovation" that was promoted in the Smart City Mission guidelines.
A senior government official, however, says that participation of private entities in SPVs is not mandatory in the Smart Mission guidelines and that private entities would be taken on board in future if necessary.
"The consultants are already working for various other government schemes such as the Swachh Bharat Mission," the official says.
The official, however, admits that there was a slow start to the mission as it took time to float the SPVs, appoint CEOs and project management committees. "Some time was also taken in the tendering project. Now the work has gathered pace."
Data accessed by Business Standard suggest that only 4 per cent projects were completed in the 20 smart cities approved by the Union government in the first round.
Of the 810 projects worth ₹43,548 crore, only 32 projects worth ₹503 crore were completed.
Work has begun on another 72 projects valued at ₹3,500 crore.
The data suggests that maximum work has taken place in the BJP-ruled states of Madhya Pradesh, Rajasthan and Gujarat.
Time-consuming projects
However, some projects are time-consuming by nature.
"Smart city plans envisage two kinds of projects: urban infrastructure related and IT/technology related. Urban infrastructure development, particularly in a brownfield city, is expected to take time," says Arindam Guha, Partner at Deloitte Touche Tohmatsu.
However, it is possible, Guha says, to show quick results in the IT/technology related components like online delivery of municipal services, sensor-based data collection through smart poles, intelligent traffic management, smart solid waste management, water supply and so on.
"Many of the top 20 cities have initiated projects in these areas and the results should be visible shortly," he says.
The progress has been tardy also on the work to be done under the public-private partnership mode. The government data suggests that work has only begun in 19 projects worth ₹1,357.47 crore, while 46 projects worth ₹3,930.77 crore are still at various stages of tendering.
Rethinking our cities
100 cities will be converted into smart cities by 2022
20 cities were selected in the first phase
Urban population is set to rise by more than 400 million to 814 million by 2050
The Centre and states have pledged to contribute ₹100 crore each for the next five years
Public transport, healthcare services, education system, Wi-Fi connectivity will be developed to match with the best in the world
24x7 electricity, water supply will be ensured
An automated waste disposal system would be put in place
E-governance mechanisms will have a major role in making a city smart
Experts say private players are weary because there is no specific financial or tax incentive available for them in Smart City projects.
Funding might be an area of concern too in the future. Currently, the Union government and the state governments have pledged to contribute ₹100 crore each for the next five years.
"Every smart city has laid out a business plan to fund its projects. At least 14 urban bodies are in the process of issuing bonds to raise anywhere between ₹100 crore and ₹400 crore," the government official says.