Villagers attribute Adarsh Nangla's 'fall' to a combination of government apathy and decline of the collective spirit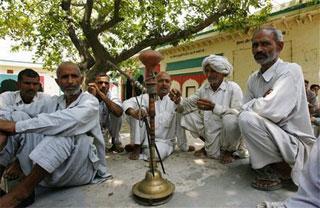 "You are returning from Adarsh Nangla? It was declared a model village when Jawaharlal Nehru was the prime minister of the country. It had everything you could think of. Now you see what has happened to all that was built in the 1950s and 1960s," said Manoj, a manager at Brahma brick field. His field is on the outskirts of Baraut town in Baghpat district and is not very far from Adarsh Nangla.
Adarsh Nangla was one of the first villages in the country to be called a model village, It had a drainage system when many urban centres did not. It used to have multiple flush toilets for women. And it had a functional veterinary hospital with an artificial insemination centre. "The village used to be a classic example of Swachch Bharat and adarsh gram. It showed the world how much citizens could achieve with some help from the government," said Vijay Raj, an Adarsh Nangla villager now settled in Delhi.
Villagers attribute Adarsh Nangla's decline to a combination of government apathy and decline of the collective spirit. "Everything worked well till the 1970s. Panchayat funds and grants from the government used to be enough to maintain the facilities. But growing factionalism in the village and lack of government assistance led to a slide," said Vedpal Singh, a villager. He practises law in the district town of Baghpat.
As the National Democratic Alliance government is about to implement an ambitious Saansad Adarsh Gram Yojana (SAGY), Adarsh Nangla holds out lessons. Altogether 6,443 out of India's 265,000 village panchayats are to be turned into model villages by 2024. The focus will be to empower villagers to make choices and provide them with opportunities to exercise those.
Adarsh Nangla was also created by "empowered villagers" right after Independence. Uttar Pradesh was the first state to enact panchayat laws and the first panchayat elections took place between 1947 and 1949. By August 1949, about 35,000 village panchayats came into being. Adarsh Nangla, then Khwaja Nangla, was one such.
"The first pradhan was elected unopposed. And one of the first decisions of the newly elected panchayat was to build drains throughout the village. They work still. The money came from contributions by villagers," said Vedpal Singh.
With assistance from the government, the panchayat built toilets for women, urinals, decorated gates on every street, a veterinary hospital, an Ayurveda hospital, a residential school for girls, covered wells, pucca houses for Dalits and a centralised compost centre where each family had a place to dump cow dung. "Villagers donated land for these facilities and they worked for free to build them," Vedpal Singh added.
Ajab Singh's father donated land for toilets and an adjoining seed godown. "Because land was free and labour too was free, the panchayat had to spend very little to build these facilities," Ajab Singh said.
Other villages also built common facilities on their own. "With shram daan and bhumi daan (donation of land and labour), the village panchayat headed by my father Uma Shankar Singh in the 1950s built small bridges, all-weather roads, a compost centre and ponds. But without follow-up action, we are far from a model village we always wanted to become," said Hriday Narain Singh of Korari village in Uttar Pradesh's Gorakhpur district.
Acknowledging Adarsh Nangla's efforts, the then Uttar Pradesh chief minister, Chandra Bhanu Gupta, in 1960 changed its name from Khwaja Nangla. A central government report the same year mentioned Adarsh Nangla as a shining example of the panchayati system. "In the 1960s, delegations from the US and Japan would visit to study our system," Vedpal Singh said.
"What was unique about our village was not the infrastructure people built themselves. It was one of the few villages in the country where people from various castes lived side by side. And many years before Indira Awas Yojana, our panchayat had built pucca houses for Dalits with facilities like separate toilets, covered wells and an exclusive leather centre," said Vinay Singh, another Adarsh Nangla villager who works as a marketing professional in Dehradun. Many villagers work outside but prefer to come back during the weekend. The village has a population of 4,000.
Most of the infrastructure is in ruins now. Toilets have sunk, the compost centre has disappeared, the girls' school is closed, the veterinary hospital has not had a doctor in three years, the artificial insemination centre is closed, a cowshed has turned into barren land and the seed godown is shut.
"We have added new facilities like a telephone exchange, a power transmission centre, a primary health centre, a branch of Syndicate Bank and solar-powered street lights in the last 20-25 years. However, we did not build on the facilities that made us a model. What saddens me most is closure of the girls' school," said Anupriya Chaudhary, a villager who teaches in one of Delhi's colleges. She was one of the school's students.
Saansad Adarsh Gram Yojana
MPs to adopt one village each and develop it by 2016
They are required to subsequently adopt two more villages and develop these by 2019
Five more villages each to be developed between 2019 and 2024
MPs cannot select their own or their spouse's village
Funding to come from existing social schemes, MP Local Area Development scheme and corporate social responsibility schemes
Online monitoring system
Mid-term and post-project evaluation to be conducted by an independent agency
Source: PRS Legislative Research
The image is used for representation purpose only.