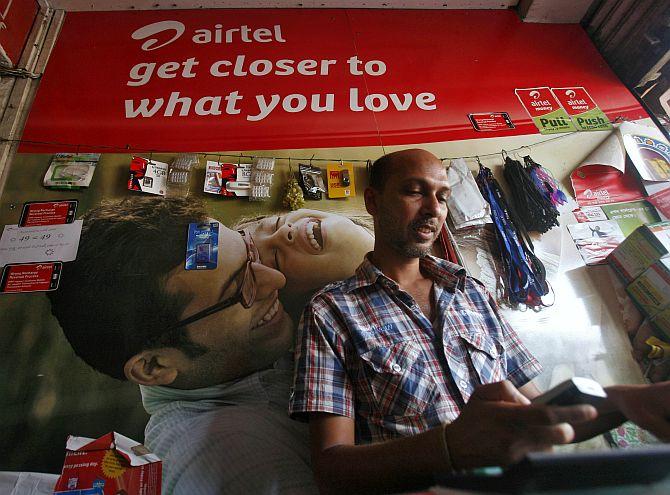 Telecom major Bharti Airtel on Tuesday pitched for a hike in mobile and data tariffs, at least in small quantities, as it gears for the biggest ever spectrum auction beginning on Wednesday.
"Tariff has to go up. The good news is that we are talking about very small tariffs raises. In last three years, only 3 paise have gone up. In a competitive market, markets will ultimately determine," Bharti Enterprises Chairman Sunil Mittal said at the Mobile World Congress in Barcelona.
Eight telecom operators have deposited a whopping Rs 20,435 crore as earnest money for the auction of radiowaves. Bharti Airtel has deposited Rs 4,336 crore as earnest money for the auction, which is the second highest after Reliance Jio Infocomm Rs 4,500 crore.
"My view is that India needs to have 5-7 paise more per minute, 2-3 paise per mb and that is not going to hurt anyone's pocket," Mittal said.
He did not mention any timeframe for the hike in telecom service rates and indicated that the hike may not be linked directly to the auction despite its putting pressure on the financials of the telecom firms.
"It (spectrum auction) puts pressure on balance sheets... may result in rise in tariff. We don't know," Mittal said.
The latest auction of radiowaves for the telecom sector is going to be the biggest auction of 2G and 3G spectrum wherein 8 firms will bid to acquire radiowaves in four bands. At the base price, value of spectrum being put for auction is about Rs 82,000 crore.
Most of the spectrum being put up for the auction is presently held by Airtel, Vodafone, Idea Cellular and Reliance Telecom. Their licences are expiring in 2015-16.
Airtel has pan-India 2G licence and holds 3G spectrum in 13 out of 22 service area in the country.
Industry has said that the government's fixed base or starting price of auction very high and 3G spectrum being put for auction is very less.
"We have 6-7 circles where we need 3G spectrum but we don't need to kill ourselves if prices go too high as reserve price is already set very high. There is more coming up for next spectrum auction later," Mittal said.
The quantum of 3G spectrum that government has put up for auction at base price amounts to Rs 17,555 crore. At reserve price, total value of spectrum in 800 MHz, 900 Mhz and 1800 MHz being put for auction stands at Rs 64,840 crore.