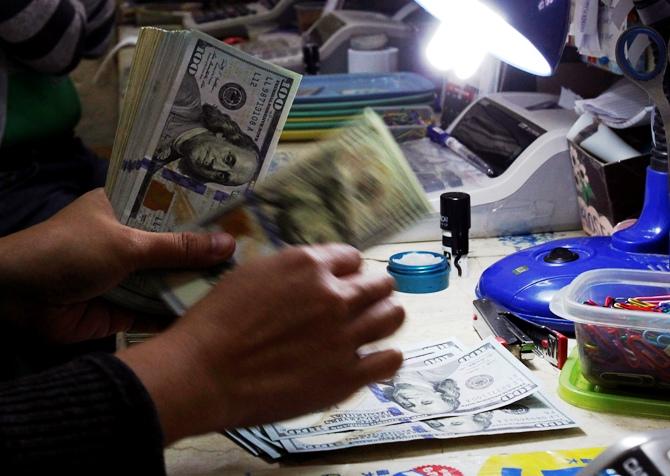 Sourcing of goods from India is compelled to some extent by the government to promote small and medium industries
American retailing giant Walmart getting a notice from the service tax department in the finance ministry is the latest example of multinationals finding it tough to cope with the sourcing rules in New Delhi.
Carrefour, IKEA and Apple are among the others to have come up against the rules in this regard, and their interpretation.
Walmart's could be a technical matter, to be sorted by its accounting and taxation department.
That said, foreign companies have often found sourcing from India an obstacle in their business, say analysts and consultants.
Also decision-making is stretched because of differences in views between ministries.
Sourcing of goods from India is compelled to some extent by the government to promote small and medium industries.
And, now, to push the current government's Make In India programme.
Thirty per cent sourcing from India is mandatory for companies in the retail business and with foreign direct investment.
On the latest case, the service tax department has sent a notice to the Bengaluru sourcing office of Walmart Stores, the US parent, asking why it should not pay tax for services provided to the multinational.
The Bengaluru sourcing entity is separate from Walmart India, which operates a wholesaling or cash-and- carry business.
Responding to the Rs 18-crore (Rs 180-million) notice, a company spokesperson said they were in the process of responding to it.
"Our sourcing office in Bengaluru sources local products from India and the region for our markets around the world."
The $482-billion corporation has found itself in a spot before, too, on sourcing.
In 2013, Walmart split with its India joint venture partner, Bharti Enterprises, over regulatory and policy issues.
This was after finding it difficult to start multi-brand retailing, the very business for which it had entered the country. Among other conditions, the 30 per cent mandatory sourcing from small and medium industries was seen as a hurdle. When Scott Price, then Asia head of Walmart, had said, "FDI policy has passed. . ." he hinted at the delay in decision-making at the government level on tough conditions like mandatory sourcing.
Ministries holding different views on how much sourcing should be made mandatory and for how long had prolonged policy making.
French retailing group Carrefour also left India after it found difficult to do business here.
Carrefour operated only cash-and-carry stores in India, as 100 per cent foreign direct investment was allowed in that segment.
Its ambition was to set up multi-brand outlets, like it has elsewhere.
In the latter segment, up to 51 per cent FDI is permitted but Carrefour failed to find an Indian partner and mandatory sourcing came in the way. It left India after the current government took charge in 2014, on a poll stance of opposition to multi-brand retailing.
IKEA of Sweden took about 18 months, said a source, to get its proposal cleared at the Foreign Investment Promotion Board.
IKEA's $1.5-billion application in 2012 has been the biggest FDI proposal in retailing so far.
A source said various government departments and ministries had different thoughts on the sourcing issue and it took that much longer for clearance.
IKEA had told the government it was not possible to source 30 per cent from Indian small and medium enterprises, after which the condition was changed to read the mandatory 30 per cent sourcing from India would be 'preferably from small and medium enterprises'.
More recently, Apple Inc was also in a sourcing battle.
The department of industrial policy and promotion had recommended a special exemption, as Apple made cutting-edge products and local sourcing would be tough.
However, the finance ministry said such an exemption could not be given before policy clarity on what was cutting-edge.
This definition is still in the making and Apple is yet to decide on filing its application again for starting fully-owned stores in India.
SOURCING BLUES
2013: Joint venture between Walmart and Bharti group called off
2014: Carrefour exits India
IKEA's proposal took one-and-a-half years to get cleared
Apple waiting for cutting-edge definition to see if it is eligible for a sourcing waiver
The image is used for representational purpose only. Photograph: Reuters