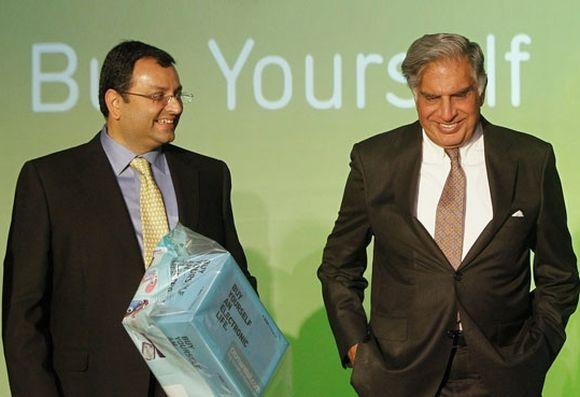 Tata Steel's decision to sell off entire British business and its potential impact on jobs have had a bearing on the India visit of the Duke and Duchess of Cambridge Prince William and Kate Middleton.
The royal couple turned down the offer to stay in the grand presidential suite of Mumbai's iconic Taj Mahal Palace hotel.
Instead of the Rs 900,000-a-night suite, the couple chose to stay in a Rs 66,000-a-night room in the same hotel.
Daily Mail, a British tabloid, speculated that the royals may have been put off by the name of the presidential suite -- the Tata suite.
Chairman Cyrus Mistry and Tata Sons' Chairman Emeritus Ratan Tata could not make it to Sunday's charity gala, which was attended by who's who of Indian business, cinema and sports world.
Sources in the Tata group said they could not attend as they were travelling.
The Rs 23 lakh-a-table charity dinner was hosted by the royal couple and attended by Bollywood stars Shah Rukh Khan, Aishwarya Rai and cricket legend Sachin Tendulkar among others.
Proceeds from the gala would support three children's charities -- Magic Bus, ChildLine and Doorstep.
The dinner was co-hosted by the Taj Mahal Palace hotel.
"Both Mistry and Tata had received the invite.
But had conveyed in advance their inability to attend the gala and regretted for the same," a source in the Tata group said.
The dinner was, however, attended by former Tata Consultancy Services chief executive S Ramadorai.
And Rakesh Sarna, managing director of Indian Hotels -- the operator of the Taj group of hotels.
A statement by Prince William in which he said he "feels incredibly lucky to visit a place where his mother's memory is kept alive by so many who travel there" came as a respite.
Image: Ratan Tata (right) and Tata Group Chairman Cyrus Mistry. Photograph: Vivek Prakash/Reuters
The image is used for representational purpose only