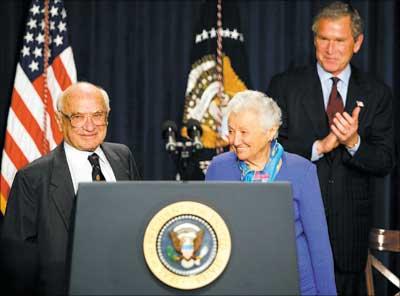 Milton Friedman, winner of the 1976 Nobel Prize for economics passed away on Thursday.  The 94-year-old economist was a senior research fellow at the Hoover Institution at Stanford University from 1977 to 2006.
The Noble Prize Committee appreciated Friedman for the book 'A Monetary History of the United States', he wrote with Anna Schwartz. It explained how missteps by the Federal Reserve deepened and prolonged the Great Depression of the 1930s.
Friedman was born on July 31, 1912, in Brooklyn, New York. In his autobiography, Friedman says "My mother ran a small retail "dry goods" store, while my father engaged in a succession of mostly unsuccessful "jobbing" ventures. The family income was small and highly uncertain; financial crisis was a constant companion. Yet there was always enough to eat, and the family atmosphere was warm and supportive."
He was also the Paul Snowden Russell Distinguished Service Professor Emeritus of Economics at the University of Chicago, where he taught from 1946 to 1976, and a member of the research staff of the National Bureau of Economic Research from 1937 to 1981.
He was awarded the Presidential Medal of Freedom and the National Medal of Science. Friedman wrote on public policy. Along with his wife, Rose D. Friedman, he authored Capitalism and Freedom (University of Chicago Press, 1962); Bright Promises, Dismal Performance (Thomas Horton and Daughters, 1983); Free to Choose (Harcourt Brace Jovanovich, 1980); and Tyranny of the Status Quo (Harcourt Brace Jovanovich, 1984).
He was a member of President Ronald Reagan's Economic Policy Advisory Board and served as an adviser to Senator Barry Goldwater and Richard Nixon.
Friedman received a B.A. in 1932 from Rutgers University, an M.A. in 1933 from the University of Chicago, and a Ph.D. in 1946 from Columbia University.
(Above)  US President George W Bush honours Milton Friedman (L), the recipient of the 1976 Nobel Memorial Prize for Economic Science, on the occasion of his 90th birthday. Also seen is the Nobel laureate's wife Rose Friedman (C) during a tribute on May 9, 2002 in Washington, DC.
Photograph: Tim Sloan/AFP/Getty Images