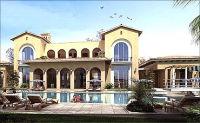 Real estate developer Emaar MGF on Thursday said it conducts valuation exercise of its assets on a regular basis and rebuffed reports of a possible split between its partners - MGF Development and Dubai's Emaar Properties.
"Emaar MGF, on a regular basis, values its assets for banking or allied purposes. Emaar Properties, as an investor, also gets similar valuations done across its investments and businesses, in various geographic markets including India," said Emaar MGF Land Ltd Executive President Sanjiv Saddy.
Despite repeated reports of strained relations between the domestic and the overseas partners in the last few years, he denied that the two firms are moving towards a split.
"There is no move to split the asset portfolio of Emaar MGF, and any reports to the contrary are baseless rumours," Saddy said.
When contacted, a spokesperson of Emaar Properties accepted that valuations are being done as a regular practice, but denied that it is planning to exit the joint venture.
"...And as a company policy, we do not respond to such market rumours or speculation," the official added.
The spokesperson said India is one of the key markets for
Emaar Properties and it is committed to the joint venture operations with MGF Developments in the country.
"Emaar Properties and MGF Development have established a strong relationship through the six years of its JV. This relationship intends to create incremental value for its stakeholders," the official said.
Emaar MGF, a joint venture between Emaar Properties and domestic firm MGF, commenced its operations in the country in 2005.
MGF has 50 per cent stake in the JV, while Emaar has about 45 per cent holding. Rest lie with foreign institutional investors and others.
Last year, Emaar group Chief Md A Alabbar had said in a tongue-in-cheek comment that the only way left for him was to publicly "kiss" his Indian partner to show the closeness.
After aborting two attempts to raise money from capital market, Emaar MGF has filed the draft red herring prospectus for the third time in September 2010 with a plan to mop up about Rs. 1,600 crore (Rs. 160 billion), much lower than the original plan of Rs. 7,000 crore (Rs. 70 billion) in the first try.
"Emaar MGF has re-filed its DRHP with the SEBI, and we are awaiting clearances from the Regulator," Emaar said.
As on February 28, 2011, the total debt of the company stands at Rs. 4,674 crore (Rs. 46.74 billion).