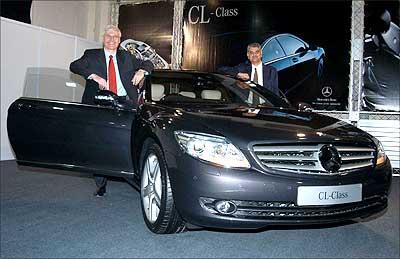 DaimlerChrysler India on Friday announced the launch of the latest edition of its S-Class diesel, the S 320CDi L, and the premium Mercedes-Benz CL-Class, for the Indian market at the Brand Showcase in Mumbai.
The managing director and CEO of DaimlerChrysler India Wilfried Aulbur unveiled the cars together with director for corporate affairs and finance, Suhas Kadlaskar; and director of sales and marketing Sanjiv Sahajwala.
The Mercedes-Benz S320CDi L: For over five decades, says a DaimlerChrysler media release, the S-Class has signified a special aura, intelligent technology and highest quality. The new S 320CDi L not only continues this tradition, but lends a new meaning to it. As with its predecessor, the debutante introduces technical innovations that make the flagship Mercedes-Benz model an example for others to follow.
Pioneering safety features and exemplary comfort are once again the outstanding attributes of the S 320 CDi L. The new S 320 CDi L also sets standards with its agile handling and offers an even more effortless driving experience thanks to new, more powerful engines. It is replacing a model series which is a leader in the luxury class, with around 500,000 units sold all over the world. Indeed the new S-Class gives new dimensions to its theme: "Heaven can wait."