According to data, the telecom sector's adjusted gross revenues have grown 13.2% year-on-year in the June quarter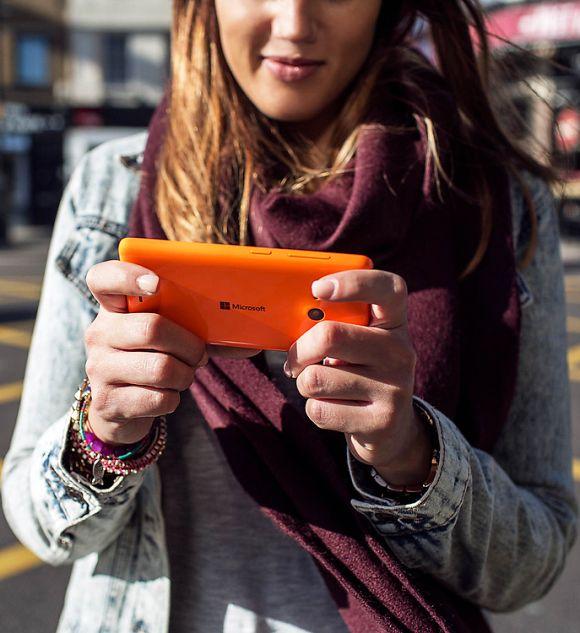 Once Reliance Jio starts operations later this year, the telecom sector is expected to see some serious disruption, if pundits are to be believed.
But for now, the three big boys of the sector — Bharti Airtel, Vodafone and Idea — are growing at a blistering pace, and at the expense of smaller rivals.

In the first quarter of FY16, the three accounted for 91 per cent of the sector's incremental revenue. The the companies also reported stronger growth in circles where they already have dominant shares.
According to data released by the Telecom Regulatory Authority of India for the quarter ended June, the telecom sector's adjusted gross revenues have grown 13.2 per cent year-on-year, higher than the sector's compounded annual growth rate of 10.1 per cent through FY08-15.

During the quarter, the boom in data helped improve growth for the sector. A majority of the incremental revenue share was cornered by the top three due to their dominant position in key markets.
Bharti Airtel accounted for the highest incremental revenue share, 34 per cent, in the first quarter, compared with 33.3 per cent last year.

In FY15, the company's revenue market share stood at 34.4 per cent. Idea's incremental revenue share jumped to 32.8 per cent from 22.5 per cent in the corresponding period last year.

During FY15, its revenue share stood at 29.3 per cent. Vodafone's incremental revenue share growth was flat at 24.7 per cent year-on-year.
Clearly, data is driving growth and the top three companies, having made heavy investment in spectrum and network, are riding this wave.

Data revenues for the three grew 70 per cent year-on-year. Analysts believe the three operators are poised to capture most of the incremental revenue market share, even after Reliance Jio launches at disruptive prices.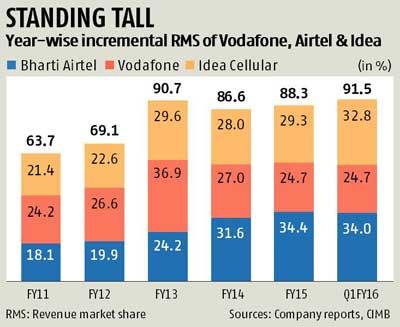 Top 3 telcos corner 91% revenue market share in Q1 While the overall boom in data has helped these companies garner higher revenue share, dynamics specific to certain markets have also helped.

For instance, Bharti's revenue market share rose 480 basis points in the Mumbai circle to 22.8 per cent, after the closure of Loop's operations there.

Bharti is faring better than others, with data revenue market share of 44.6 per cent during the June quarter. The revenue market share of smaller players declined sequentially.
In a note, Piyush Choudhary of CIMB says: "The pace of consolidation accelerated, as the top three operators captured 91.5 per cent incremental RMS (revenue market share) in the first quarter of FY16 (against 76.5 per cent in the first quarter of FY15). We reiterate our overweight rating on the sector, with rising data penetration and weaker-than-expected RJio launch as potential catalysts."