Y H Malegam, 80, will head the panel that will look into non-performing bank assets and their relation to the Rs 114-bn PNB scam.

Illustration: Dominic Xavier/Rediff.com.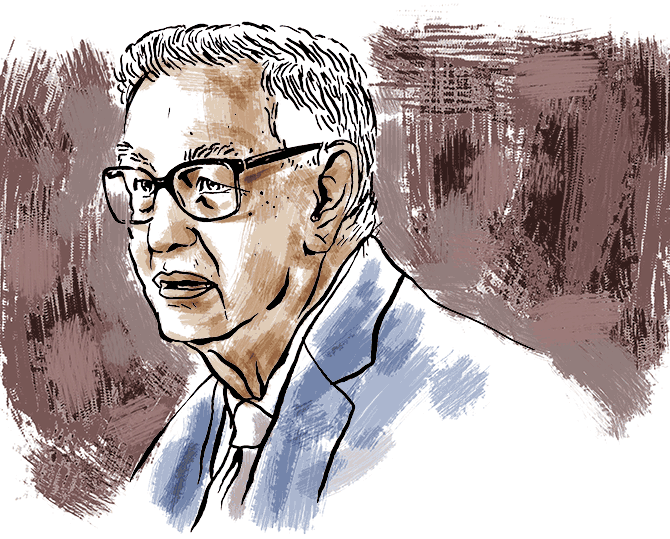 Yezdi Hirji Malegam, 80, has a rare honour of being the longest-serving member of the Reserve Bank of India board and also the oldest.

Malegam, who was at the RBI central board for 17 years from 2000, is the go-to man whenever the central bank felt the need for a structural reform of processes and rules for various regulated entities, and also regarding its functioning.

A soft-spoken person with elephantine memory, Malegam, despite his advanced age, appears at ease, churning out dates and years while presenting his views.


"He has a good grasp on the matters on which he wants to communicate. He understands where the question is coming from and explains his answer with anecdotal evidence," said a person who interacted with Malegam.

A chartered account, Malegam sits in an office at Ballard Estate, south Mumbai, a few blocks from the RBI headquarters on Mint Street. According to his friends, Malegam calls a spade a spade, But in a dignified and erudite manner.

Perhaps it is a testament to his stellar integrity that the RBI repeatedly appoints him as head of various committees.

"When work is done by Malegam, nobody questions it. That is the reason for the RBI bringing him out from hibernation quite often," said a retired bank executive who has worked extensively with Malegam.

His latest assignment is to head an expert panel tasked with finding out reasons for the divergence between banks' reporting of bad debts and the RBI's interpretation of non-performing assets. The panel will try and address the rising incidents of fraud in the banking system.

While details about the committee remain sketchy, bankers say it could be coming up with clear definitions on "default" and what should constitute non-performing assets.

While bankers contend that there is no reason for them to classify an asset as NPA if it services the debt, RBI auditors maintain that if a particular account had defaulted with one bank, there are high chances that it would default with others, and therefore, all banks must classify the account as stressed.

The RBI recently came up with a revised framework, which suggested that if default is found in one bank, others must recognise it. This is taking a judgment on NPA, said bankers. According to them, the RBI is not clear about the definition of default and the committee will have to clarify it.

Besides, the central bank is trying to minimise incidents of fraud in the banking system through ad hoc rules, but nothing appears to be working, as evidenced by the Rs 114 billion guarantee fraud at Punjab National Bank.

The committee headed by Malegam is expected to set rule-based accounting that will help eliminate or greatly reduce the chances of fraud, said bankers.

Malegam has done it before -- getting to the bottom and coming with long-term solutions to problems at hand.

His most decisive role was when the microfinance industry found itself in a quandary over non-repayment of debt by borrowers in Andhra Pradesh and subsequent regulation by the state government to check aggressive MFI lending to the poor.
The now-famous Malegam committee in 2011 found that the MFIs ignored the poor and sometimes fleeced their customers with usurious interest rates. Soon, there was a cap on how much an MFI can charge its customers.

Malegam also suggested that the RBI should not build further reserves in its accounts just for the sake of it and for a couple of years transfer the government all its profit as dividend to aid in fiscal consolidation. The RBI's dividend is one of the major components in the Budget math every year, though the window is closing soon.

He was a member of the Financial Sector Legislative Reforms Commission to amend financial laws in 2011. He dissented in the report, favouring control of capital flows in the hands of the RBI.