Professor Soumitra Dutta, founder and faculty director of a new media and technology innovation lab at INSEAD in Fontainebleau, France, has been named dean of the Samuel Curtis Johnson Graduate School of Management, Cornell University.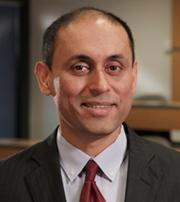 Dutta, an Indian Institute of Technology-Delhi alumnus, is the 11th dean of the Cornell business school and the first person of Indian origin to be appointed to the top post.

He will succeed Joseph Thomas, who is stepping down after a five-year term as dean. The appointment comes into effect from July 1, 2011.

"It feels absolutely good and exciting and I am proud to be part of Cornell University," Dutta, a pacesetter in technology innovation at INSEAD, told India Abroad in a telephone interview from France. "It obviously is a great opportunity to serve as dean in Cornell."

Dutta is the Roland Berger chaired professor in business and technology at INSEAD, which is one of the top-ranked graduate business schools worldwide.

He has held several deputy dean-level management responsibilities at INSEAD, including handling global executive education with total annual revenues of $110 million.

He has also served visiting professorships at the Haas School at UC Berkeley, Oxford Internet Institute at the University of Oxford and Judge School at the University of Cambridge in England, and is on the advisory boards of several international business schools.

He has lived and worked in the United States, Europe and Asia, including stints as an engineer with GE and Schlumberger.

Dutta said the appointment was an exciting opportunity for him partly because of Johnson's commitment to global perspective, entrepreneurship and innovation, and business sustainability, and partly because it is an early adopter of approaches like performance learning.

"The school itself exemplifies innovative thinking in business," he said in a statement. "I am excited about the close connections the school has to the broader university and especially the opportunities available through collaboration on the tech campus."

W Nelson, Eleanora and George Landew professor of management and professor of accounting, who was a member of the search committee, said, "After a comprehensive search process that evaluated many excellent candidates, the committee enthusiastically supported Soumitra's candidacy. In addition to his
sustained excellence as a scholar, teacher, and thought leader, Soumitra's focus on global business and technology makes him an ideal fit for the School. He appreciates what makes Johnson distinctive, while also having high aspirations for the future."
David J Skorton, president, Cornell University, said, "He (Dutta) has expertise in new and emerging media, he has studied the conditions that promote innovation, and he has extensive experience on the international stage. Among other qualities, these prepare him well to oversee the education of our next-generation business leaders and entrepreneurs."
Dutta is the co-editor and author, respectively, of the Global Information Technology Report (co-published with the World Economic Forum) and the Global Innovation Index (to be co-published with the World Intellectual Property Organisation).
Both reports have been widely used by governments around the world in assessing and planning their technology and innovation policies. He has also published 20 books and monographs.
The Calcutta-born academic is a member of the Davos Circle, an association of long-time participants in the Annual Davos meeting of the WEF, and has engaged in a number of multi-stakeholder initiatives to shape global, regional and industry agendas.
"Having excelled in a premier management school in academia and in administration after being a top-quality computer science student, Professor Soumitra Dutta brings a rare combination of vision, aspiration, networking, management, engineering rigour and excellence to Johnson," N R Narayana Murthy Murthy, chairman emeritus, Infosys and emeritus member, Cornell University Board of Trustees.
H Fisk Johnson, chief executive officer and chairman, S C Johnson, adds, "His (Dutta's) global focus and his outstanding research in the areas of innovation and technology position him well to lead the school today and in the future.
Dutta has advised several governments on their national information and innovation policies and has consulted with leading international organisations. He has also co-founded two firms and is on the board of several start-ups.
"Professor Dutta is highly respected in the academic and business communities globally, and will transfer a wealth of knowledge and expertise to Johnson. Booz & Company is proud to have built a working relationship spanning two decades with Professor Dutta through a number of joint initiatives pertaining to strategy, innovation, and dissemination of technology centric models," Joe Saddi, chairman of Booz & Company.