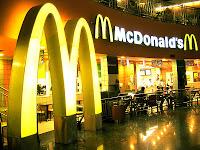 Expanding its presence in South India, leading global foodservice retailer McDonald's on Wednesday opened its first restaurant in Kerala at nearby Edapally.

With this launch, McDonald's reaffirms its promise to expand and grow in the Southern states, Amit Jatia, vice-chairman, Hardcastle Restaurants Private Ltd, a Master Franchisee for West and South India operations of McDonald's Restaurants, told reporters on Thursday.

In the coming years, the plans were to aggressively increase the retail footprint of McDonald's restaurants to fortify the brand's presence in the existing market as well as new markets, he said.

McDonald's has a network of over 300
restaurants across the country. "Our target is to start and operationalise between 235-250 restaurants in south and western India by 2014 end and FY2015," he said.
"Kochi is an important market for McDonald's and its entry into this market underlines McDonald's robust plans for South India," he said.
Pointing that Kochi, the commercial hub of Kerala, has been of prime importance in its growth plans, Jatia said they were sourcing fish and Piri Piri spices from here.
Along with the big cities, they were also looking at Tier II and III cities. "We are already in Nasik and Surat.
"The last restaurant opened was in Coimbatore," he said adding, in Maharashtra they had around 80 stores.