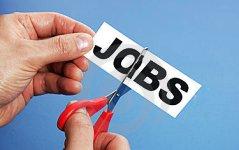 ABG Haldia Bulk Terminals, which operates at Kolkata Port's Haldia Dock Complex, is subjecting the vague promises of change in this regard to a sudden and severe test. Saying it cannot carry on with a swollen payroll, allegedly pumped up by labour union pressure, it has issued retrenchment notices to 275 of the 650 people on its payroll.

A joint venture company between ABG Infralogistics and French company Louis Dreyfus Armateurs, it has another 350 workers under a sub-contractor to manage, making it 1,000 people in all.

The port authorities have called a meeting on Thursday of all stakeholders.

According to a top AHBT official, they were forced to hire 220 people extra in the first round in 2010, backed by the then ruling party strongman here, the CPM's Lakshman Seth.

"Soon after, the (then in Opposition, now ruling ) Trinamool Congress' Indian National Trinamool Trade Union Congress came up with a demand that unless we hired the same amount of (their) people, AHBT will not be allowed to start operations.

It was a precondition to start work," the official said.

Partly as a result, says the company, it has an accumulated loss of Rs 45 crore (Rs 450 million) from the Haldia operations, while it has invested Rs 140 crore (Rs 1.4 billion) till now.

"We were facing a loss of Rs 2 crore (Rs 20 million) every month. With the retrenchment, it will be reduced to Rs 40 lakhs (Rs 4 million).

"We had no other choice but to do this to survive at Haldia.

"I would like to ask the protesters what they'd choose, a complete lockout of operations or a partial retrenchment," he added.

Political parties, expectedly, will have none of this. Suvendu Adhikari, TMC leader and MP from Tamluk, said: "We will not allow any job cuts in Haldia.

Though TMC is against a strike, we will give our support to the retrenched workers.

"I have already conveyed my displeasure
to the management and written a letter to the regional labour commissioner." Asked about political intervention during the hiring process, he replied, "The company is blaming us for their own profit."
Added the CPM's Mohamed Salim, a former minister: "Where is the chief minister, who projects herself to be a revolutionary?
"She is not speaking for these workers who lost their jobs. While the port authorities have given up on operations, local hooligans are ruling in Haldia."
Kolkata Port Trust chairman Manish Jain said, "We had categorically asked the company not to take any step before consulting us. We were not aware of such a move (retrenchment)."
There was a recent intervention by the high court here on AHBT's operational problems.
The latter's demand was that the port ensure it got at least nine million tonnes of cargo, compared to the 5.5 mt it now handles.
After a HC direction, the port authorities had, only last week, reached an agreement with AHBT for maximum utilisation of berth numbers 2 and 8 operated by the company.
The deal said all vessels carrying dry bulk cargo arriving at HDC would be allocated to AHBT berths and if these were engaged, vessels would be allocated to other berths.
Kolkata Port was forced to approach the court, after the company threatened to suspend operations at Haldia unless more cargo was assured.
There were large scale protests in Haldia when the port authorities tried to implement the deal.
Suvendu Adhikari told Business Standard some days earlier that implementation of the deal between the company and the port would lead to the loss of 10,000 jobs in other terminals.
According to the company, the AHBT-operated berth 2 and 8 had improved the productivity at Haldia by 300 per cent, from 5,000 tonnes per day to 20,000 tonnes a day.
According to port officials, in 2010-11, the ABG terminals got 50 per cent of the dry bulk cargo handled by the port, which in 2011-12 had risen to 52 per cent.