The country's largest car maker Maruti Suzuki India on Monday said its cumulative exports have crossed one million units with the milestone car headed for Denmark.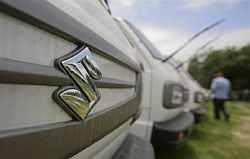 The company said the one millionth vehicle, a red colored A-star, left the Mundra coast line along with 2,200 other vehicles for various international destinations.

This includes Switzerland, Malta, Sweden in Europe and Algeria, Egypt and Morocco in the non-European destinations.

The millionth car will be sold in Denmark, it added. "A million cars in overseas markets is a significant milestone for us," Maruti Suzuki India (MSI) Managing Director and CEO Shinzo Nakanishi said in a statement.

He said the company's ability to explore markets other than Europe has helped in keeping its exports volumes up.

"Two years back, Europe was a strong destination for us. We have aligned our exports strategy in line with the changed scenario in exports market. The market for us has shifted significantly from Europe to non-European countries," Nakanishi said.

While the A-star, marketed under 'Suzuki Alto' and 'Suzuki Celerio' badge in international markets was doing well, MSI also worked on identifying alternate non-European markets, he said.

"This strategy worked in our favour and helped us retain our export numbers after European nations withdrew the scrappage incentives," he added.

With today's shipment, Algeria also attains the landmark of being the only country to import over 1,00,000 units from Maruti Suzuki, the company said.

In 2009-10, Maruti Suzuki's total exports were over 1.47 lakh units of which over 75 per cent were to Europe. By 2011-12 the share of non-EU export sales shot up sharply from 23 per cent to 66 per cent.

In the last fiscal, MSI's total exports stood at 1,27,379 units, as against 1,38,266 units in the previous year, down 7.9 per cent.

In coming times, MSI said it plans to expand presence in newer markets, including the ASEAN region. Currently, the company exports its cars to over 125 countries across the globe.

The A-star is the company's flagship exports model. Within 38 months of its first shipment in January 2009, it has clocked exports of over 3,00,000 units. With over 136 variants, A-star is exported to over 100 countries across the world, MSI said.

In cumulative sales, A-star is followed by Alto with over 2,50,000 units and Maruti 800 with 2,26,000 units, it added.