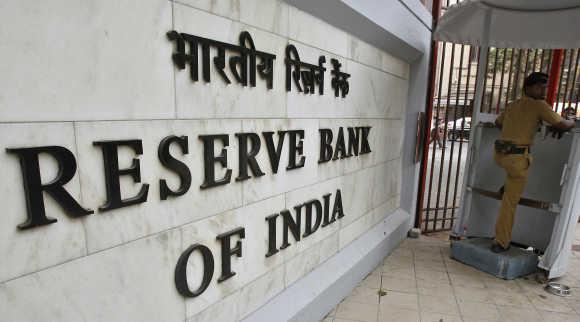 Reserve Bank of India said it had cancelled the buyback in consultation with the government.
The Reserve Bank of India on Thursday decided not to accept any offer for the repurchase of Rs 6,500 crore (Rs 65-billion) of inflation-indexed bonds maturing in 2023, a move that has riled institutional players.
Reserve Bank of India said it had cancelled the buyback in consultation with the government.
Market players said they were already sitting on losses because the wholesale price index had turned negative.
Against Rs 6,500 crore (Rs 65 billion) on offer, 124 bids worth Rs 6,004 crore (Rs 60.04 billion) were received by the central bank.
Market players said when these bonds, linked to the Wholesale Price Index, were issued with a lot of fanfare in 2013, institutions subscribed to these as they were guaranteeing a real return like treasury inflation-protected securities, or TIPS, in the US market.
Post-issuance, RBI started treating the consumer price index, or CPI, as a policy benchmark.
This change made these bonds illiquid.
RBI also further stopped issuing such papers unlike US Fed which issues TIPS on a regular basis.
"The WPI fell into negative territory for the last 14 months, resulting in 1.44 per cent coupon on these bonds, compared to eight per cent on peer bonds.
"Illiquidity and lower coupon led these bonds being traded at a discount. While RBI offered an exit route by announcing a buyback, given that they have rejected all bids on Thursday, they probably did not like the price offered," said an institutional player.
He added that a better option would have been to link the bonds to CPI -- their current benchmark for measuring inflation. Institutions are sitting on losses on these bonds.
"Today, my carrying cost is Rs 95 on these bonds because I have earned no interest on them due to a fall in the Wholesale Price Index.
"But we offered them at almost acquisition price because we wanted an exit route," said an institutional player.
Market players said that the inflation-indexation bonds had turned completely illiquid due to lack of interest and Fixed Income Money Market & Derivatives Association of India had pegged the value of these bonds at Rs 83.90 per bond, even below the average issue price.
However, when RBI announced the buyback last Friday, market players started trading aggressively and the price was pulled up to Rs 87, a common feature even in equities when buybacks are announced. But this sudden spike in the price irked the banking regulator and the government.
Both were expecting the bonds would be offered at Rs 83-84.
"Generally, RBI looks at the last trading prices when it goes for a buyback, but this time the central bank probably wanted to buy the bonds at the previous week's FIMMDA valuation level," said the head of treasury with a private bank.
Market players said such moves by the government and the central bank created uncertainty.
Already the difference between the repo rate and the yields on the 10-year G-sec, interpreted as term/risk premium for government papers, is at over 100 basis points -- a two-year high.
"This is significantly more than what it used to be at the start of the rate cut cycle when it was just 25 bps.
"But when the government and central bank does such things, institutions are more nervous about putting money in such paper," said the institutional player.
The market believes there will soon be another offer to buy the bonds and this time investors will probably keep the bids closer to the last FIMMDA level," the treasurer said.