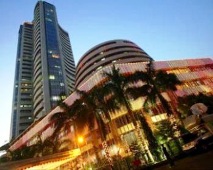 The Indian economy is in doldrums; rupee had touched an all-time low this week, and the stock markets have turned extremely volatile.

What should the investors do under the circumstances?

In an hour-long chat on rediff.com on Friday, A K Prabhakar, senior VP and Head -- Equity Research (Retail), Anand Rathi Financial Services Ltd, discussed the best stocks to put the investors' money in.

Here is the transcript:

NIRAJSINGHI
HAVE KINGFISHER 1000AT 6.50 SHOULD I BUY MORE
A K
We would suggest to avoid KFA as any failed business model is very difficult to recover.

rakesh sharma
sir best stock in education
A K
We like Navneet Publication as it is one of teh most consistent performing company in publication and stationary with good brand recall. It will also benefit from the sylabus change happening in Gujarat and Maharashtra. we are very positive on the stock.

kamruz zaman
what is your outlook of power stocks if coal and gas issues are addressed in near term
A K
If government addresse these issues then it is positive for teh sector then we can think of teh investment as missing 5-10% rally will not matter much as once teh issue is addressed this would give some visibility in teh sector.

Vishnu-Mittal
View on Axis Bank and SBI.
A K
SBI has made bottom formation around 1970 levels and looks good for short term 2300.Private banks like ICICI, yes, Kotak, axis HDFC bank and Indusind bank are outperformers and we like them as they will continue to do so.

watch
I have bought 400 shares of tata steel at Rs.307. Should i buy more to average..
A K
tata steel is lookign good and you have got at good price, so we would suggest to hold on and as the cycle for metal stcoks recovers you will gain.

padam
What is the future of MARUTI ?
A K
We like Maruti for a target of 1900 for next 1 year. The comapny ahs been consistently for 20% for last 6 years and we expect this growth to accelerate in next few years.

HARIHARAN K
what is the nifty prediction upto july end
A K
NIFTY Has Today made POSITIVE ISLAND REVERSAL Nifty Gap-down(5738-5729) on 13th June and today Gap-up(5729-5739) which is prefect Island Nifty 13th June Candle has become isolated from main charts making it ISLAND So Stop from traders 5729 on Spot target 6229 & 6400. Nifty has corrected more than 70% of High & Low of 20133 5477 to 6229 which is 5683.

thomas
[SKB] [SKB] Sir, Can I buy INFOSYS, SUNPHARMA, YES BANK, HDFC BANK, AXIS BANK, PNB at current rates. Please reply.
A K
Yes we like all the stocks at current levels and you can go ahead with these stocks.
Swapan Banerjee
yes on dipls
A K
MOst of the real estate transactions are unaccounted and therefore lot of corpoarte governance issue is there. Also with continous price rising in real estate demand has been impacted and only people having real estate as the assset class have gained rather than companies as it is not reflecting in thier financials due to slack in demand scenario.

Narinder
tata global position ?
A K
Tata global is a holding company for tata coffe and the numbers are a reflection of tata coffee performance on doemstic and its 8'o clock subsidiary and starbucks performance. At current price tata coffee is very attractive for long temr inevtsment with 11x PE for FY14E earnings of Rs. 100. we would prefer tata Coffee rather than Tata global.

Avinash
I have 20 shares of Bharti Airtel..... Shall I sell or hold.....
A K
Bharti airtel is loosing its market share and also with foregn debt on books so we would prefer IDEA in this space. Telecom as whole sector has been facing lot of pressure so for faster return we would suggest Bayer crop, Yes bank, M&M and Lupin.

rakesh
sir,mmtc target
Pratap Singh
mmtc is making me depress so what is your opinion
A K
MMTC is highly expensive stock with lot of structural issue hangovers we would not suugest for the stock.

Atul Pandey
AtulWhat is the future of PSU banking stocks like punjab & sind bank,united bank of india and indian overseas bank.
A K
PSU banks will take more time to recover as the asset quality issue and restructure loans is still a hangover on teh stocks. going forward in next 2-3 quarters when cycle picks up this should be behind us.

Avinash
which stocks to buy in the current scenario which would yield good returns
A K
For investors who think safety is first then PSU banks offer attractive dividen yiled where we liek Andhra bank, Canara Bank, Dena bank for next 1-2 years with 15-20% annualised return.

Tajmul
can i buy ril now
A K
RIL is very good buy at these levels and consolidation has already happen and with continous investmenst plans going on to grow aggressivly.

HOODA
Can you suggest 3 mulitibaggers with 1 year view.Singh
A K
M&M Fin, L&T Fin, LIC Housing, REC these 4 are possible banking candidates out of which select stocks may give multiple returns.

Rafiq Qureshi
Is Indian economy going to take long to recover?
A K
Sentiments should improve in next 2 quarters and one should not worry about the money flow as it will happen once there are returns seen. Bull market is born out of extreme pessism and we feel once it breaks 6357 it can double in next 2 years that is 13000 levels in Nifty. Nifty current EPS is 360 and 2 yr forwrd is 487 where it quotes 11.9x PE.

tarakadmani
need valuable advice which stock i can buy for long term and short term
A K
Long term - TATA coffee, YES bank, BAYER crop, LIC housing, M&M, LUPIN, RIL, Bajaj CorpShort term - Maruti, HDFC, TCS, INDUSIND, SBI

Vinay Shukla
When rupee recovers, do you think market will also recover?
A K
Yes markets will recover once rupee recovers as we already seen markets giving thums up to rupee whihc was appreciating today from low of 58.95 to today 57.5

gp-srivastava
I have RIL 50 share @ 989/- what is the prospect
A K
RIL worst is over and now there are chnaces of gas price hike... even it doesnt ahppen now but by April 2014 they will get automatic hike. Today stock has made run away gap soon target of 1000 can be crosses in next 12 months and this is the stock whihc would lead the next rally of teh markets.RIL in last 3 years EPS has been 66-70 and now it is expected to grow aggressively in next 2 yrs

indianbangger
what is the price target of indusind bank for 2 years view from now
A K
IndusInd bank is growing very aggressively with consistency in last 4 years with NII growth of 35%, going forward we expect similar growth. Price target of 750 is possible in next 2 years. We think IndusInd and Yes bank most aggressivley growing in the private sector.

AMIT
NMDC & BEML FUTURE
A K
PSU stocks will atke more time to recover as they are selling in discount due to disinvestment policy so i would suggets moving in to stock slike Havells, L&T, Hindalco, Hind Zinc which would give far better returns.
A K
Sentiments should improve in next 2 quarters and one should not worry about the money flow as it will happen once there are returns seen. Bull market is born out of extreme pessism and we feel once it breaks 6357 it can double in next 2 years that is 13000 levels in Nifty. Nifty current EPS is 360 and 2 yr forwrd is 487 where it quotes 11.9x PE.
A K
We are very positive on markets and we have seen that outperformers have been outperforming and if we want to gain in this markets its better to be on the stocks whihc are outperforming. These are some stocks whihc have been giving returns more than 7x since 2009. We like stocks like ITC, LUPIN, M&M, SUNPHARMA and INDUSIND BANK