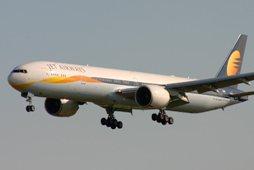 Jet Airways is not too perturbed about the decline in its market share, as the carrier continues to register good revenue growth, says its chief executive officer Nikos Kardassis.

According to the monthly traffic data for November, released by the Directorate General of Civil Aviation on Wednesday, IndiGo continues to lead the pack with a market share of 27.3 per cent.

Jet Airways, along with its no-frills economy class carrier Jet Konnect, holds on to the number two rank (25.1 per cent), but on a stand-alone basis, it has slipped behind Air India and SpiceJet.

"It (fall in market share) does not worry me at all.

"What matters is not the passenger numbers, but the revenue. Consumer goods companies worldwide are not counting how many soaps or bottles of water they are selling. They are looking at the revenue,'' Kardassis said.

"We continue to be the leaders in India and grow our revenue by offering the best network and service."

The airline posted a Rs 166-crore (Rs 1.66-billion) loss in the September quarter, but revenue increased 25 per cent and margins improved.

Kardassis indicated that revenue was growing in the December quarter as well, but did not share details.

The airline has cut capacity in the domestic sector and redeployed some of its Boeing 737s
on international sectors.
According to its winter schedule approved by DGCA, Jet Airways has 400 less departures compared to 2011.
It has secured approval for 2,515 weekly flights in the current winter schedule.
Jet Konnect's schedule more or less remains the same, with a little over 850 weekly flights.
Reduction of flights is one reason Jet Airways has been losing ground to low-cost airlines over the past few months.
"There has not been a significant growth in premium or business travel. Even within the leisure segment, people are opting for budget travel.
"The low-cost airlines are luring large groups and tour operators with discounts," said a person close to the company, who did not want to be named.
Added Sharat Dhall, chief operating officer of online travel services provider Yatra.com: "Air India, too, has filled the gap created by Kingfisher Airlines.
"Air India seems to have got it right and increased its share.
Low-cost airlines are also gaining advantage."
Vijay Mallya-led Kingfisher was grounded in early October by the aviation regulator, following labour unrest and financial problems.
Jet officials say traffic is down across the sector because of increase in fares.
"Higher fares have affected the entire market, not just us,'' a company executive said, requesting anonymity.