Temperatures in March will be critical to determining the impact of any unusual heatwave conditions on this year's wheat crop in North India.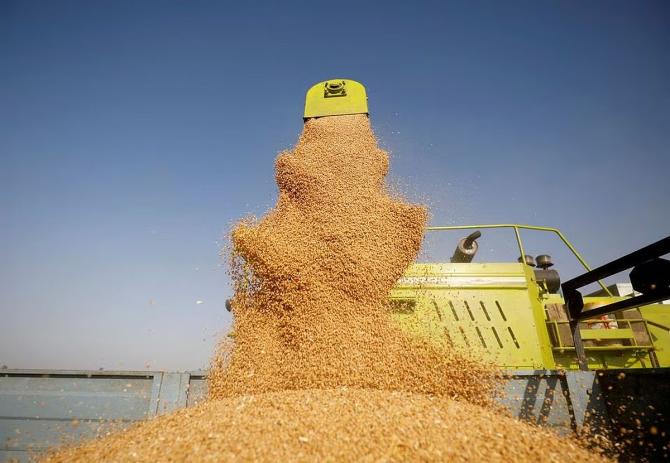 It is that time of the year when the crop enters its vital grain-filling stage, say meteorologists and crop experts.
So far, the high day temperatures in the North are not believed to have any significant impact on the final yields since the crop hasn't entered a stage where heat affects yields.
But all this may change dramatically in the next fortnight or so.
In Central India, the wheat crop may have escaped the current high temperatures, mainly those sown early, and passed the grain-filling stage.
According to the extended range forecast of the India Meteorological Department (IMD) issued on February 9, in Northwest and Central India - comprising some of the main wheat-growing states of Punjab, Haryana, Uttar Pradesh (UP), and Madhya Pradesh (MP) - the minimum temperatures will rise 2-3 degrees Celsius (°C) until February 10-11 and fall thereafter until February 13.
In the following week, from February 16-22, minimum temperatures will rise 1-3°C above normal in Northwest India but will be near normal in the rest of the country.
Grain filling in wheat usually starts end-February/March in North India.
It usually lasts for 28-30 days when, as maintained by crop scientists, on an average 150 kilogram (kg) of wheat, grain gets formed on each hectare of land.
This makes about 4,500 kg of wheat grain in nearly 30 days per hectare.
This is also the average yield of wheat in the states of Punjab, Haryana, and West UP.
"So far, the average temperatures, which are maximum and minimum divided by two, are around 2-3°C above normal.
"The fact that wheat crop in the North is still in the vegetative state means that the impact is still manageable.
"But if high temperature persists until end-March and average temperatures are above normal for prolonged periods, it would mean that the days needed for adequate filling of grain will reduce and impact the final yields," says K K Singh, former head of IMD's agromet division.
He says any unusual rise in temperature will lower the period of grain filling in wheat from 30 days to say 25-27 days.
This will mean fewer quantities of grain and a greater impact on the final yield.
"The only way to minimise the impact of this heat is to go for extra irrigation of the fields.
"Ideally, it should be done through sprinklers. In the absence of sprinklers, even flood irrigation may be done so that the plant remains well watered," says Singh.
Dry weather, coupled with gusty winds, is bad for the standing wheat crop in its grain-filling stage, he adds.
A significant drop in per-hectare yields of wheat for the second year due to unusually high temperatures may have an impact on the Centre's annual wheat procurement plan.
This could also translate into higher-than-usual prices.
The Centre recently decided to lower the price at which it was offering wheat from the central pool stocks by deciding not to add any transportation charge.
According to reports, it is also contemplating stock limits and liquidating more wheat from its inventories than the planned 3 million tonnes to further cool prices.
"The big reason for the rise in temperatures is the near absence of any western disturbance in North India.
"Whatever little it is seeing will go by February 17. In UP and Delhi, the day temperatures have not yet touched 30-32°C, while it has done so in Gujarat, Central and Eastern MP, Maharashtra, and Telangana in the past few days.
"Our understanding is that from the middle of March, temperatures will start rising, possibly impacting wheat in North India," says Mahesh Palawat, vice-president meteorology and climate change, Skymet Weather Services.