SpiceJet on Friday said its promoters agreed to infuse Rs 100 crore (Rs 1 billion) fresh funds into the airline in exchange for an additional equity of 42.9 million shares aggregating to five per cent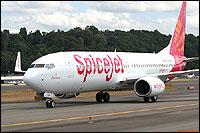 With this, the holdings of Kalanidhi Maran and his family in the second largest low-cost carrier will go up to 48.6 per cent.
"Today our board met today and decided to allot 42.9 million preferential shares or five percent to the promoters. This will take the overall holding of promoters in the airline to 48.6 per cent," SpiceJet chief executive Neil Mills told PTI from New Delhi.
The fresh equity infusion comes at a time its rival Kingfisher Airline is struggling to be air-borne due to a severe cash-crunch.
Kingfisher's promoter Vijay Mallya is finding it difficult to raise fresh equity, a precondition his debtors have set before considering any fresh lending to the carrier.
The Chennai-based carrier enjoys 16.3 percent market share as of January making it the fourth largest carrier among the seven and the second largest among the no-frills airlines.
The media baron-turned airline owner Maran took over as chairman of SpcieJet in November 2010 after buying out American investor Wilbur Ross.
Reflecting the worsening market conditions, SpiceJet reported Rs 39.3 crore (Rs 393 million) loss in the December quarter, making it one of the best performing airlines. The loss came on the back of a 90 per cent spike in fuel costs which offset a 41 per cent rise in revenues.
When asked whether the board has discussed a fare hike, Mills said, the atmosphere is not conducive for any fare hike.
This is despite the fact that airlines are selling a ticket at nearly Rs 1,200 discount, according to industry estimates.
SpiceJet operates 264 flights daily to 32 domestic cities and two international destinations - Kathmandu and Colombo.